Reviews of silent film releases on home video.
Copyright © 1999-2018 by Carl Bennett
and the Silent Era Company.
All Rights Reserved.

The Show Off
(1926)

While it is known today as a Louise Brooks film, The Show Off (1926) is really a Ford Sterling vehicle for the veteran film comedian who is best remembered for his starring work in the early Keystone comedy days. Sterling left Keystone to star in short comedies for a film production company established in his name, but little became of it and the actor, best known to audiences for his broad, mugging comedic style, coasted from studio to studio until his tenure as a B-film comedian for Paramount. Ford Sterling was a perfect choice to star in The Show Off.

The blowhard Mr. Aubrey Piper would like the world to think that he is an important and extravagant business man when truly he is nothing more than a $30 a week clerk at a railroad company in Philadelphia. He tries his best to pull the wool over everyone's eyes, when the only one he is fooling is his sweetheart Amy Fisher (we're not kidding!), portrayed by Lois Wilson. Mom and Pop Fisher see Aubrey for what his is, as do brother Joe and next door neighbor Clara (Louise Brooks, in her fifth film). Aubrey coaxes Amy to marry him, and she only gets a glimpse of the true Mr. Piper when they return to his meagre apartment after their marriage. Aubrey billows about their bright future and they set down to their lives together.

Miraculously Aubrey wins a raffle for a new automobile, which he would like everyone to think he bought with his bountiful earnings, but his inept driving through downtown Philadelphia draws hundreds of onlookers to an accident involving a policeman and Aubrey puffs himself up as the victim (and later the hero) of the situation. Meanwhile, Amy's brother Joe has been trying to interest steel manufacturers in his rust-proof paint invention. All progress is hindered by the death of Pop Fisher and Aubrey's day in court, which costs the family's savings of $1,000 — money that Pop secretly intended for Joe's invention and should have gone to pay off the mortgage. Mom soons finds out and is devastated. Clara lays into Aubrey. Aubrey turns about and manages to convince the steel men to purchase the paint invention in time to circumvent the foreclosure of the family home. But not before director Mal St. Clair tortures the audience with a soft-touch Griffith-style intercutting of shots of the dawdling Mr. Piper walking home and the hand of Mother Fisher poised to sign away the house. — Carl Bennett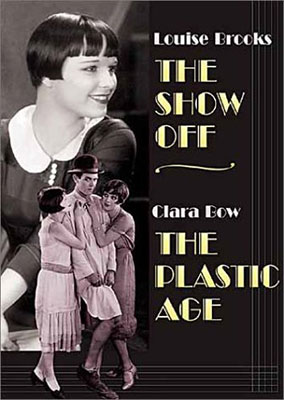 Image Entertainment
2001 DVD edition

The Show Off (1926), black & white, 81 minutes, not rated,
with The Plastic Age (1925), color-tinted black & white, 73 minutes, not rated.

Film Preservation Associates, distributed by Image Entertainment, ID0511DSDVD, UPC 0-14381-05112-4.
One single-sided, dual-layered, Region 1 NTSC DVD disc, 1.33:1 aspect ratio image in pillarboxed 4:3 (720 x 480 pixels) interlaced scan MPEG-2 format, 5.5 Mbps average video bit rate, 192 kbps audio bit rate, Dolby Digital 2.0 stereo sound, English language intertitles, no foreign language subtitles, 17 chapter stops; standard DVD keepcase, $24.99.
Release date: 7 August 2001.
Country of origin: USA

Ratings (1-10): video: 8 / audio: 7 / additional content: 6 / overall: 7.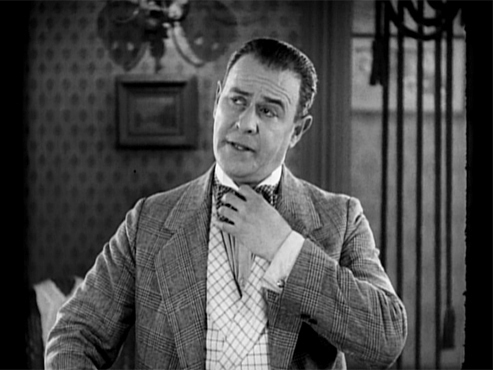 The highlight of this DVD edition is the excellent 35mm nitrate print utilized for the video transfer. The print features an incredible amount of image detail, range of greytones and depth of background detail that makes the many street views of Philadelphia a wonderful glimpse back in time. The gorgeous print is lightly speckled, scuffed and scratched, with a few well-repaired breaks and other print damage which is never distracting. The transfer is full-screen but is quite generous in its framing. If you have friends who think that silent era films looked like the blurry budget 16mm reduction prints of the 1960s, show them The Show Off and knock their socks off.
Musician/composer Timothy Brock has provided a bright and entertaining music score arranged for piano, violin and clarinet. The contemporary-music performance authentically replicates a possible trio performance that may have been heard in hundreds of small theaters across America in the 1920s.
While this edition of The Show Off and The Plastic Age is compromised by the condition of the Plastic Age print, the condition of the excellent print of The Show Off alone makes the disc worth purchasing. We recommend the DVD for Louise Brooks enthusiasts and completists, and to the collector who has to have everything.
USA: Click the logomark to purchase this Region 1 NTSC DVD edition from Amazon.com. Your purchase supports the Silent Era website.
Canada: Click the logomark to purchase Region 1 NTSC DVD edition from Amazon.ca. Your purchase supports the Silent Era website.