People active in the silent era and people who keep the silent era alive.
Copyright © 1999-2018 by Carl Bennett and the Silent Era Company.
All Rights Reserved.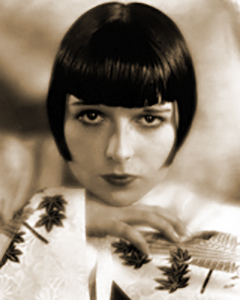 Photograph: Silent Era image collection.
Louise Brooks
Born 14 November 1906 in Cherryvale, Kansas, USA, as Mary Louise Brooks.
Died 8 August 1985 in Rochester, New York, USA, of a heart attack.
Maried director Edward Sutherland; divorced.
Louise Brooks began entertainment work as a professional dancer. Her work on Broadway led to an offer in films from Paramount. Acted in a series of Paramount films from the mid to late 1920s, before leaving the United States for work in Germany and her greatest artistic successes for director G.W. Pabst in the late 1920s.
References: Paris-Brooks.