People active in the silent era and people who keep the silent era alive.
Copyright © 1999-2018 by Carl Bennett and the Silent Era Company.
All Rights Reserved.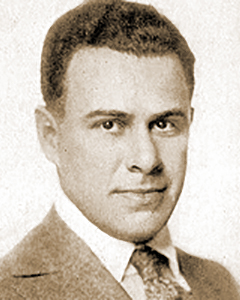 Photograph: Silent Era image collection.
Ford Sterling
Born 3 November 1883 in La Crosse, Wisconsin, USA, as George Ford Stich.
Died 13 October 1939 in Los Angeles, California, USA, of a heart attack.
Married actress Teddy Sampson, 1914; until Ford's death, 13 October 1939.
Ford Sterling began his entertainment career as a clown for John Robinson's circus. Sterling appears to have begun film work at the Biograph Company in 1911. He is best remembered for his work for The Keystone Film Company (1912-1914). In 1914, he left Keystone to star in a series of comedy shorts produced by Sterling Film Company.
References: Website-IMDb.