Reviews of silent film releases on home video.
Copyright © 1999-2018 by Carl Bennett
and the Silent Era Company.
All Rights Reserved.
Chaplin's
Essanay Comedies
1915
(1915-1918)
Contents: His New Job (1915), A Night Out (1915), The Champion (1915), In the Park (1915), A Jitney Elopement (1915), The Tramp (1915), By the Sea (1915), Work (1915), A Woman (1915), The Bank (1915), His Regeneration (1915), Shanghaied (1915), A Night in the Show (1915), Carmen (1916), Police! (1916) and Triple Trouble (1918).
Charles Chaplin made 35 comedy films for Keystone Film Company in 1914, one of them America's first feature-length comedy. While he was too busy cranking out Keystone product to notice, Chaplin had become an international comedy film star. Chaplin wasn't in the dark long, however. With his year-long obligation nearly completed at Keystone, it came time to renegotiate his contract. He had been making $150 a week. Mack Sennett offered $400 a week. Chaplin demanded much more. Sennett refused.
G.M. "Broncho Billy" Anderson and Jesse Robbins of the Essanay Film Manufacturing Company, based in Chicago, eventually signed Chaplin to a contract for $1250 a week and a signing bonus of $10,000. Late in December 1914, Chaplin travelled to Chicago to begin work on the Essanay films. For two weeks in January 1915, Chaplin filmed His New Job (1915) at the Essanay studios in Chicago. That would be the last of Chicago, however. Chaplin disliked conditions in the Chicago studio, Illinois winter weather and George K. Spoor, Essanay's penny-pinching coowner. The Chaplin stock company (veterans of one film) moved to the Essanay studio at Niles (today a neighborhood of Fremont), California, where Anderson was making his endless parade of Broncho Billy westerns.
Chaplin was still without a well-defined comedic style when he started his Essanay contract. Each of them depend to greater or lesser degree on comedic themes established at Keystone. Only occasionally to we see glimpses of the poetic tramp to follow. For the most part, Chaplin was still a straight slapstick comedian through the Essanay films, but was allowed to work under a less demanding production schedule. This meant, later in the year, that more thought could be expended in the development of scenarios. Throughout the progression of the Essanay films we can see Chaplin beginning to shape his on-screen persona. The Chaplin of The Bank (1915) or Carmen (1915) is not the Chaplin of His New Job.
With his Niles films, Chaplin began an important association in his early filmmaking years. Edna Purviance was a girl who had grown up in Lovelock, Nevada, and was now in the Bay area, training to be a secretary. One of Broncho Billy's cowboy actors had noticed her at Tate's Cafe on Hill Street in San Francisco and recommended her to Chaplin, who was looking for an untrained leading lady. Edna proved an able student of Chaplin's, eventually feeling comfortable and confident in front of the cameras. The on-screen association would last for the next eight years. Their personal association would last for the rest of her life.
We also want to take a moment here to compare the acting of a couple of Chaplin's supporting cast members of this time. Watch the performance of Bud Jamison as a menacing waiter in A Night Out, then compare that to Eric Campbell's performance as a menacing waiter in The Immigrant (1917). The difference points out what a great foil Campbell was for Chaplin, and what a tragic loss Campbell's early death was. — Carl Bennett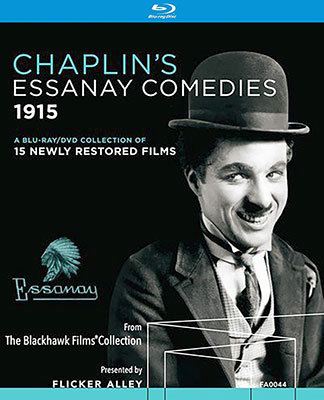 Flicker Alley
2015 Blu-ray Disc / DVD edition

Chaplin's Essanay Comedies 1915 (1915-1918), black & white, 405 minutes total, not rated,
including His New Job (1915), black & white, 29 minutes, not rated, A Night Out (1915), black & white, 27 minutes, not rated, The Champion (1915), black & white, 31 minutes, not rated, In the Park (1915), color-toned black & white, 14 minutes, not rated, A Jitney Elopement (1915), black & white, 25 minutes, not rated, The Tramp (1915), black & white, 26 minutes, not rated, By the Sea (1915), black & white, 14 minutes, not rated, Work (1915), black & white, 28 minutes, not rated, A Woman (1915), black & white, 23 minutes, not rated, The Bank (1915), black & white, 25 minutes, not rated, His Regeneration (1915), black & white, 15 minutes, not rated, Shanghaied (1915), black & white, 27 minutes, not rated, A Night in the Show (1915), black & white, 24 minutes, not rated, Carmen (1916), black & white, 31 minutes, not rated, Police! (1916), black & white, 26 minutes, not rated, and Triple Trouble (1918), black & white, 23 minutes, not rated.

Flicker Alley, FA0044, UPC 6-17311-67939-1.
Two single-sided, dual-layered, Region A Blu-ray Discs, 1.33:1 aspect ratio in pillarboxed 16:9 (1920 x 1080 pixels) progressive? scan AVCHD MPEG-4 format, ? Mbps average video bit rate, ? kbps audio bit rate, Dolby Digital 2.0 stereo sound, English language intertitles, no foreign language subtitles, chapter stops; and three single-sided, dual-layered, Region 1 NTSC DVD discs, 1.33:1 aspect ratio image in full-frame 4:3 (720 x 480 pixels) progressive? scan format, ? Mbps average video bit rate, ? kbps audio bit rate, Dolby Digital 2.0 stereo sound, English language intertitles, no foreign language subtitles, chapter stops; five-disc BD keepcase, $59.95.
Release date: 10 November 2015.
Country of origin: USA