People active in the silent era and people who keep the silent era alive.
Copyright © 1999-2018 by Carl Bennett and the Silent Era Company.
All Rights Reserved.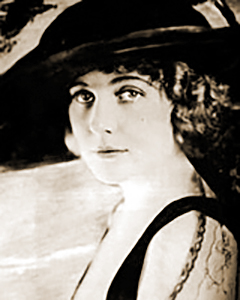 Photograph: Silent Era image collection.
Edna Purviance
Born 21 October 1895 in Pleasant Valley, Nevada, USA, as Edna Olga Purviance.
Died early January 1958 in Los Angeles, California, USA, of cancer.
Married Jack Squire in Los Angeles, California, USA?
Edna Purviance began work in films for Essanay, working with Charles Chaplin in Niles, California, early in 1915. Worked for Chaplin's production company from 1916 through 1923. She also appeared in one final film, made in France, before retiring from motion picture work.
Despite rumors to the contrary, Purviance did not appear as an extra in Chaplin's latter-day sound films.