People active in the silent era and people who keep the silent era alive.
Copyright © 1999-2018 by Carl Bennett and the Silent Era Company.
All Rights Reserved.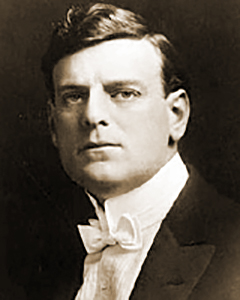 Photograph: Silent Era image collection.
Gilbert M. Anderson
(same as G.M. Anderson, Broncho Billy Anderson)
Born 21 March 1880 (some sources say 1882) in Little Rock, Arkansas, USA, as Gilbert Maxwell Aronson.
Died 20 January 1971 in Woodland Hills, California, USA.
Gilbert M. Anderson began film work for Edison Manufacturing Company in The Great Train Robbery (1903). Founded the Essanay Film Manufacturing Company with George K. Spoor in 1906. Anderson worked for Essanay, as a film star, writer, director and producer, and Golden West from 1906 through circa 1919. Also produced films as an independent producer circa 1919 through circa 1922.
References: McCaffrey-Guide pp. 19-20; Miller-Comedies pp. 12-14.