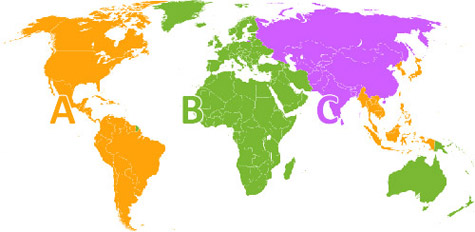 Region A : United States of America, Canada, Mexico, Cuba, Bahamas, Bermuda, Puerto Rico, Dominican Republic, Haiti, Jamaica, Cayman Islands, Virgin Islands, Guatemala, Belize, Honduras, El Salvador, Nicaragua, Costa Rica, Panama, Brazil, Argentina, Chile, Venezuela, Colombia, Ecuador, Perú, Bolivia, Paraguay, Uruguay, Guyana, Suriname, Japan, Korea, Taiwan, Hong Kong, Vietnam, Laos, Cambodia, Thailand, Myanmar, Philippines, Malaysia and Indonesia.

Region B : France, Germany, Spain, Portugal, United Kingdom, Ireland, Greenland, Iceland, Svalbard, Faroe Islands, Finland, Norway, Sweden, Denmark, Netherlands, Belgium, Estonia, Latvia, Lithuania, Belarus, Ukraine, Moldova, Poland, Romania, Slovakia, Bulgaria, Serbia, Bosnia and Herzegovina, Montenegro, Macedonia, Hungary, Greece, Czech Republic, Austria, Croatia, Italy, Switzerland, Monaco, Luxembourg, Sardinia, Turkey, Georgia, Armenia, Azerbaijan, Iran, Iraq, Syria, Cyprus, Kuwait, Saudi Arabia, Qatar, Oman, Yemen, Jordan, Israel, Egypt, Libya, Tunisia, Algeria, Morocco, Western Sahara, Mauritania, Senegal, Mali, Nigeria, Chad, Sudan, Eritrea, Djibouti, Ethiopia, Somalia, Kenya, Uganda, Rwanda, Burandi, Central African Republic, Cameroon, Gabon, Congo, Democratic Republic of the Congo, Benin, Togo, Ghana, Burkina Faso, Côte d'Ivorie, Liberia, Guinea, Sierra Leone, Guinea-Bissau, United Republic of Tanzania, Mozambique, Malawi, Zambia, Zimbabwe, Angola, Namibia, Botswana, Swaziland, Lesotho, South Africa, Madagascar, Mauritius, Glorioso Islands, Australia, New Zealand, Papua New Guinea, Solomon Islands, Vanuatu, New Caledonia, American Samoa, Fiji and Guyane (French Guiana).

Region C : Russia, China, Mongolia, Kazakhstan, Uzbekistan, Turkmenistan, Kyrgyzstan, Tajikistan, Afghanistan, Pakistan, India, Democratic Socialist Republic of Sri Lanka, People's Republic of Bangladesh, Nepal and Bhutan.