People active in the silent era and people who keep the silent era alive.
Copyright © 1999-2018 by Carl Bennett and the Silent Era Company.
All Rights Reserved.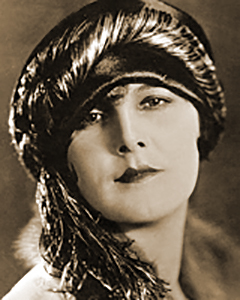 Photograph: Silent Era image collection.
Leatrice Joy
Born 7 November 1893 in New Orleans, Louisiana, USA, as Leatrice Joy Zeidler.
Died 13 May 1985 in Riverdale, New York, USA, of acute anemia.
Married actor John Gilbert, 1922, in Tiajuana, Mexico; daughter, actor and writer Leatrice Gilbert Fountain, born September 1924; divorced, 1924.
Married William S. Hook, 1931.
Dressed in Radcliffe Hall chic, with a necktie, a tailored suit and a mannishly-cropped bob, Leatrice Joy was the epitome of the 1920s no-nonsense career girl and sophisticated woman of the world. Petulant and perhaps too emancipated for the times, her liberated lady persona was ultimately 'chastened' by the will and love of her virile leading man. In historical context, Joy was the prototype for the Katherine Hepburn and Rosalind Russell strong women-feminist models in the late 1930s and 1940s.
Leatrice Joy Zeidler started her career in stock and as the leading lady for the New Orleans-based but short-lived Nola Film Company in 1915. She progressed from extra status at World Pictures' Fort Lee, New Jersey, studios to Mary Pickford's The Pride of the Clan (1917) to slapstick lady for Billy West, a popular Charles Chaplin imitator. At Samuel Goldwyn studios, she came into prominence in Bunty Pulls the Strings (1920). She costarred in two Lon Chaney vehicles, The Ace of Hearts (1921) and [The Night Rose] Voices of the City (1921). In A Tale of Two Worlds (1921) she played a 'Eurasian girl' saved from a forced marriage to villain Wallace Beery. Irene Rich, as her mother, and Japanese actor Ytake 'Jack' Abbe appeared in supporting roles.
Cecil B. DeMille groomed her career's major phase in a series of lavish Paramount productions. Her initial effort, Saturday Night (1922), a high-society drama costarred Conrad Nagel and Edith Roberts. Their next opus, Manslaughter (1922), cast her as Lydia Thorne, a thrill-crazy society girl who accidentally kills a traffic policeman with her reckless speeding. Daniel O'Bannon (Thomas Meighan), Lydia's district attorney lover persecutes and convicts her in hopes redeeming her reckless ways. In prison, she rooms with her former maid, Evans (Lois Wilson), whom she had wrongfully arrested of stealing her jewels. Lydia learns humility, reforms her selfishness and seeks out O'Bannon who is now a guilt-ridden alcoholic, whom she rehabilitates. DeMille lavished this box-office potboiler with one his famous allegorical flashbacks. Evoking the Roman courtesan Messalina in an outrageously plumed headdress, Joy presides over a drunken orgy with two chained tigers at her side. The sequence meant to be a morality lesson on Jazz Age society's debauchery and the Fall of Rome, now plays as pure silent era camp. George Abbot's 1930 remake, sans orgy, starred Claudette Colbert (another Joy spin-off and DeMille protégée) and Frederic March. Joy's fans remember her chiefly for this DeMille silent classic.
Joy followed up as Richard Dix's love interest in the modern story of DeMille's first version of The Ten Commandments (1923), with Rod La Rocque as her corrupt first husband and Nita Naldi as the Eurasian vamp with leprosy. Like superstar Gloria Swanson, Joy reigned as one of Paramount's top box-office names in such melodramas such as Java Head (1923), another East-West romance, and sophisticated comedies like You Can't Fool Your Wife (1923) and The Dressmaker from Paris (1925). Luxurious settings by designer Paul Iribe and haute couture from top Hollywood designers Travis Banton and Howard Greer were imperative to the worldly image in her 'women's pictures.'
She married tempestuous and tragic romantic idol, John Gilbert in 1922. However, professional jealousy (she ascended to stardom first and drew the larger salary) and Gilbert's philandering ended their stormy marriage two years later. Their daughter, Leatrice Gilbert Fountain, later became a novelist and author of John Gilbert's biography, Dark Star. Joy later married William S. Hook in 1931. She is the grandmother of actors John Fountain and Gideon Fountain.
In 1925, Joy moved — against advice — with DeMille to his new production company at Producers Distributing Corporation (PDC). The Clinging Vine (1926), For Alimony Only (1926) as an attorney, Eve's Leaves (1926) as a wild heiress, and The Angel of Broadway (1927), Lois Weber's last silent directorial effort, were among her late DeMille-PDC-produced films. A professional dispute ended their partnership in 1928. DeMille reputedly held a longtime grudge.
At MGM in 1928, Joy entered the last phase of her silent film career. She made a cameo appearance in King Vidor's famous "luncheon of the stars" sequence in Show People (1928), starring Marion Davies and William Haines. Joy headlined the studio's second part-talkie effort, The Bellamy Trial (1929), a courtroom drama with Betty Bronson, and vixen Margaret Livingston as the murder victim. Talkies unfortunately revealed Joy's Southern accent. Her career drifted as a freelancer in First National's A Most Immoral Lady (1929), with Walter Pidgeon.
After The Love Trader (1930) at the 'poverty row' studio Tiffany-Stahl, Leatrice Joy called her career quits, and did not return to the screen until the decade's end, as Deanna Durbin's scatterbrained aunt in First Love (1939). Joy made sporadic film and television appearances in the 1940s. Her last comeback picture, Love Nest (1951), featured Marilyn Monroe in an early role.
She resided in Greenwich, Connecticut, in her retirement years. In 1980, as an interviewee in Hollywood: The Pioneers, she vividly recalled career anecdotes for Kevin Brownlow and David Gill's documentary television series.
A neophyte Leatrice can be seen in a sizeable bit role as the 'greenhorn' actress in A Girl's Folly (1917), Maurice Tourneur's spoof on early moviemaking. The recently reissued The Ace of Hearts and Manslaughter are available on DVD. A Tale of Two Worlds, Eve's Leaves and The Clinging Vine, available on VHS home video, are testaments to her glamorous image and important contribution to silent cinema.
— Biography by Joseph Worrell
References: Drew-Speaking pp. 59-86; Lahue, Kalton C. Ladies in Distress. New York, New York: A.S. Barnes and Company, 1971, pp. 139-149.
Additional information : Leatrice Joy returned to vaudeville at Keith's Palace in New York, New York, on 26 October 1929, appearing with Mildred Brown at the piano.
References: Variety-19291030 p. 52.