Reviews of silent film releases on home video.
Copyright © 1999-2018 by Carl Bennett
and the Silent Era Company.
All Rights Reserved.
The
Ace of Hearts
(1921)
A secret organization is working in America at plotting the deaths of capitalist leaders. To assign the task of assassination, the group members draw playing cards until one receives the ace of hearts. Within the organization, two members vie for the affections of the group's only female agent, Lilith (Leatrice Joy).
Mr. Forrest (John Bowers) has the luck of the draw to assassinate their latest target, and on a whim of dedication to the cause Lilith agrees to marry him. Mr. Farallone (Lon Chaney), also in love with Lilith objects to her impulsiveness. To his horror, she goes through with the marriage.
On the morning after, a lovestruck Lilith attempts to convince Forrest not to go through with the plot. Unswayed, he leaves to complete his duty. Lilith then goes to Farallone to persuade him to intercede, and he presses her into an unsavory agreement. But love has not only transformed the hearts of Lilith and Forrest but that too of Farallone.
The acting in The Ace of Hearts is melodramatic on Chaney's part but befitting the role, and the direction good on Wallace Worsley's part. While it has its moments of card-turning suspense, the film nets out to be a slightly above-average love story programmer. — Carl Bennett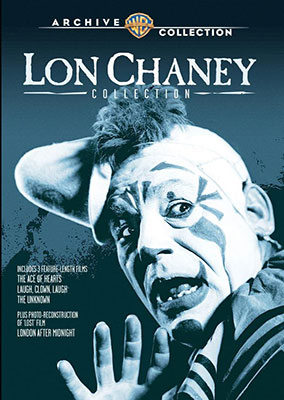 TCM Archives
2003 DVD edition

Lon Chaney Collection (1921-2000),
black & white and color, 329 minutes total, not rated,
including The Ace of Hearts (1921), black & white, 74 minutes, not rated.

Warner Home Video, 65791, UPC 0-12569-57912-5.
Two single-sided, dual-layered, Region 1 NTSC DVD discs, 1.33:1 aspect ratio image in full-frame 4:3 (720 x 480 pixels) interlaced scan MPEG-2 format, 4.5 Mbps average video bit rate, 192 kbps audio bit rate, Dolby Digital 2.0 stereo sound, English language intertitles, French and Spanish language subtitles, 11 chapter stops; cardboard wrap with plastic DVD trays in cardboard slipcase, $39.98.
Release date: 28 October 2003.
Country of origin: USA

Ratings (1-10): video: 7 / audio: 7 / additional content: 7 / overall: 7.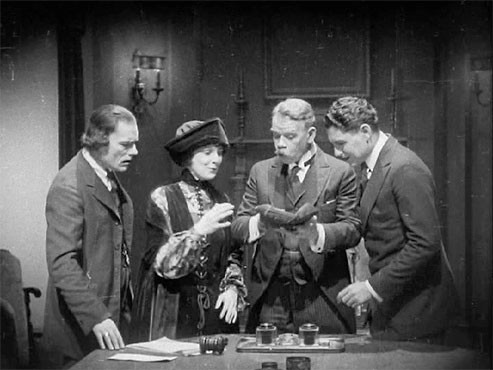 This DVD edition is presented from a full-frame video transfer of a very-good 35mm print with excellent image detail, which is highly scuffed from reel two onward. The print also has the odd vertical emusion scratch and some frame jitters. The transfer is generously framed to allow all of the intertitles to be readable. Some of the intertitles have been restored from flash titles in the source print or from intertitles transferred from a lower-quality print. Overall, the print appears to be largely complete and remains watchable despite its wear.
The accompanying music score is a serviceable composition by Turner Classic Movies' Young Film Composers competition winner Vivek Maddala, performed on synthesizers with some overdubs by a small acoustic string ensemble. A brief documentary on the score's creation is included in the supplemental section for the film. Also included is a still gallery, and an informative and informal audio commentary by Chaney biographer Michael F. Blake.
USA: Click the logomark to purchase this Region 1 NTSC DVD edition from Amazon.com. Your purchase supports the Silent Era website.
Canada: Click the logomark to purchase this Region 1 NTSC DVD edition from Amazon.ca. Your purchase supports the Silent Era website.
United Kingdom: Click the logomark to purchase this Region 1 NTSC DVD edition from Amazon.co.uk. Your purchase supports Silent Era.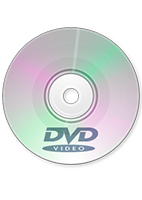 Nostalgia Family Video
2010 DVD edition

The Ace of Hearts (1921), black & white, 74 minutes, not rated.

Nostalgia Family Video, 3397D, unknown UPC number.
One single-sided, single-layered, Region 0 NTSC DVD-R disc, 1.33:1 aspect ratio image in full-frame 4:3 (720 x 480 pixels) interlaced scan MPEG-2 format, ? Mbps average video bit rate, ? kbps audio bit rate, Dolby Digital 2.0 mono sound, English language intertitles, no foreign language subtitles, chapter stops; standard DVD keepcase, $19.99.
Release date: 2010.
Country of origin: USA