People active in the silent era and people who keep the silent era alive.
Copyright © 1999-2018 by Carl Bennett and the Silent Era Company.
All Rights Reserved.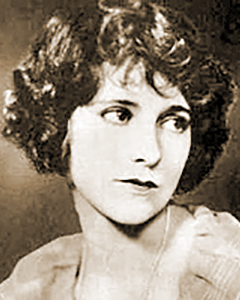 Photograph: Silent Era image collection.
Edith Roberts
Born 17 September 1899 in New York, New York, USA, as Edith Josephine Kohn.
Died 20 August 1935 in Hollywood, California, USA, of septicemia.
Sister of actress Leona Roberts.
Married M. Kenneth Snookes; divorced.
Married Harold Carter; son, Robert Carter, born 20? August 1935; until Edith's death, 20 August 1935.
Edith Roberts began her entertainment career in 1915. She appeared in more than 150 films before she retired from motion picture work in 1929.
Her premature death at age 35 was as a result of sepsis caused during the birth of her only child.
References: Website-IMDb; Website-Wikipedia.