Reviews of silent film releases on home video.
Copyright © 1999-2017 by Carl Bennett
and the Silent Era Company.
All Rights Reserved.
The Unknown
(1927)
Lon Chaney is at his peak in this odd collaboration with director Tod Browning. Chaney plays Alonzo the Armless, a circus performer who throws knives with his feet, who is in love with Nanon (Joan Crawford) his female assistant. A couple who is well-matched in Alonzo's own mind, Nanon is deathly afraid of a man's touch. Yet, she is pursued by strongman, Malabar (Norman Kerry).
Of course, Alonzo contrives to disrupt Malabar's amorous advances. Along the way, Nanon's father is murdered by a man with a malformed hand. And Alonzo is hiding his own secrets.
The film is full of characteristic Tod Browning macabre touches and twists of storyline that surprise audiences who see it for the first time.
A lost film that was never really lost, the last surviving print of The Unknown was found in the early 1970s at La Cinemathéque française in a few film cans marked "unknown." Some minor lengths of footage did not survive in the print, but the film is largely intact, with no discernable gaps in the storyline. The film has probably survived only in a European release print that was originally shot from a B-camera position, but we are lucky to have the film — any print of the film — to enjoy today.
Many reviewers of 1927 didn't like the film, thinking it too morbid for the general public. But Chaney/Browning fans of today think that it stands as one of the best of the duo's collaborations. — Carl Bennett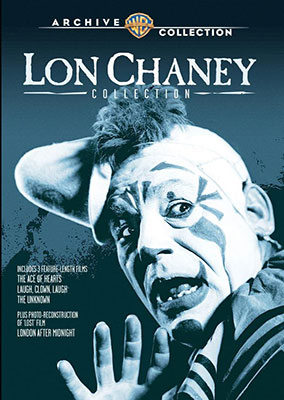 TCM Archives
2003 DVD edition

Lon Chaney Collection (1921-2000), black & white and color, 329 minutes total, not rated,
including The Unknown (1927), black & white, 49 minutes, not rated.

Warner Home Video, 65791, UPC 0-12569-57912-5.
Two single-sided, dual-layered, Region 1 NTSC DVD discs, 1.33:1 aspect ratio image in full-frame 4:3 (720 x 480 pixels) interlaced scan MPEG-2 format, 5 Mbps average video bit rate, 192 kbps audio bit rate, Dolby Digital 2.0 stereo sound, English language intertitles, French and Spanish language subtitles, 10 chapter stops, two plastic trays in cardboard wrap in cardboard slipcase, $39.98.
Release date: 28 October 2003.
Country of origin: USA

Ratings (1-10): video: 8 / audio: 8 / additional content: 8 / overall: 8.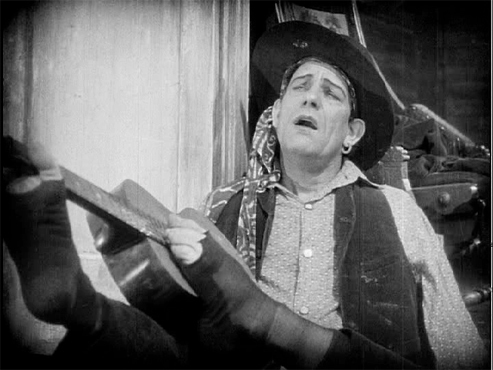 The 35mm fine-grain restoration print is marred by moderate dust, some emulsion scuffing, a little speckling, some rough edits, a few frames of ink writing on the print and some mild vertical scratches, but overall the print has a broad range of greytones and the video transfer, originally released on laserdisc in the late 1990s, maintains the print's great image detail.
We feel that the restoration print does not need little speckles in the intertitles for authenticity since the typography of the restored English intertitles does not at all resemble the original intertitle cards. While, as viewers, we know that there will be speckles in the historic footage, it is nothing more than distracting in the new intertitles, with their white type and black backgrounds, and feels as though the processing of the restoration print was substandard.
The musical accompaniment is another nonstandard take by The Alloy Orchestra, with its emphasis on digital keyboards and percussion, more melodic than the band's comedy scores and far more expressive. It was recorded in 1997 for TCM showings and was the soundtrack used on the laserdisc release. We were privileged to see the band peform the score live during a theater screening of The Unknown, and because of the laserdisc edition and the live show, we inextricably associate the score with the Chaney film.
The audio commentary by Chaney biographer Michael F. Blake is packed with little tidbits of production information about The Unknown, Chaney and Tod Browning. The information is related by a Chaney fan for the benefit of cinema fans, and does not have the sterile feeling of an academic reading. It is a commentary that is worth listening to more than once, unlike the over-intellectulized commentary of other silent era discs.
We highly recommended this edition of The Unknown for its visual quality, its unusual music score, and its new audio commentary.
USA: Click the logomark to purchase this Region 1 NTSC DVD edition from Amazon.com. Your purchase supports the Silent Era website.
Canada: Click the logomark to purchase this Region 1 NTSC DVD edition from Amazon.ca. Your purchase supports the Silent Era website.
United Kingdom: Click the logomark to purchase this Region 1 NTSC DVD edition from Amazon.co.uk. Your purchase supports Silent Era.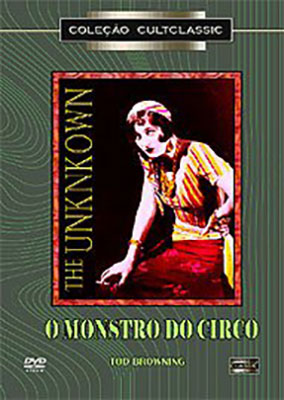 Unknown Portuguese
200? DVD edition

The Unknown (1927), black & white, 63 minutes, not rated.

Unknown company, unknown catalog number, unknown UPC number.
One single-sided, single-layered, Region 0 NTSC DVD disc, 1.33:1 aspect ratio image in full-frame 4:3 (720 x 480 pixels) interlaced scan MPEG-2 format, ? Mbps average video bit rate, ? kbps audio bit rate, Dolby Digital 2.0 stereo sound, English language intertitles, optional Portuguese language subtitles, chapter stops, standard DVD keepcase, unknown suggested retail price.
Release date: 200?
Country of origin: USA