Reviews of silent film releases on home video.
Copyright © 1999-2018 by Carl Bennett
and the Silent Era Company.
All Rights Reserved.
The Docks of
New York
(1928)
This simple little tale of a brutish ship stoker who rescues a suicidal prostitute from death, with its fantastic cinematography and intelligent direction by Josef von Sternberg, is another reason why 1928 was one of the greatest years in the silent era of cinema. The viewer witnesses a wonderful slumming tour of the boiler room of a ship, with its deep shadows and bright glisening beads of stokers' sweat; the smoky and raucous interior of a wharfside saloon, and the plain and crumbling interior of a sailor's flophouse. Along the way we meet people who, despite their rough and callous lives, have an ember of humanity glowing in their dark hearts.
George Bancroft gives a tremendous performance as Bill Roberts, a confident and consciousless brute. Betty Compson is the object of his overnight affection, Mae, a disparing prostitute who has given up on herself and life. Olga Baclanova plays a hard-nosed but sympathetic party girl, all but abandoned by her sailor husband, portrayed by Mitchell Lewis. Clyde Cook provides light comedy relief and some story tension late in the film.
As would be a hallmark of his later films, Sternberg excels at directing the visual look of the film with its fine combination of deeply contrasted light and shadows, and with smoky and gritty textures contrasted with glowing, creeping fog and radiant light on smooth female faces.
This film is one that viewers will return to time and again for its delicious grittiness and story of redemption. It is one of the great films on the silent era. — Carl Bennett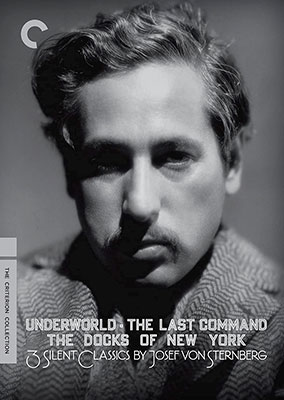 The Criterion Collection
2010 DVD edition

Three Silent Classics by Josef von Sternberg (1927-1928), black & white, 244 minutes total, not rated,
including The Docks of New York (1928), black & white, 75 minutes, not rated.

The Criterion Collection, CC1911D (spine number 528),
UPC 7-15515-05951-0.
Three single-sided, dual-layered, Region 1 NTSC DVD discs, 1.33:1 aspect ratio image in windowboxed 4:3 (720 x 480 pixels) interlaced scan MPEG-2 format, 8.5 Mbps average video bit rate, 192 kbps audio bit rate, Dolby Digital 2.0 stereo sound, English language intertitles, no foreign language subtitles, 16 chapter stops; three cardboard wrapped plastic trays in cardboard slipcase, 96-page booklet, $79.95.
Release date: 24 August 2010
Country of origin: USA

Ratings (1-10): video: 10 / audio: 9 / additional content: 7 / overall: 9.
This high-quality DVD collection of three late silent era films directed by Josef von Sternberg features new, restored high-definition digital transfers of each of the films. The gorgeous transfer of The Docks of New York (1928), reveals details in the excellent 35mm source print that were only implied in previous home video editions.
The 35mm source material features a broad range of greytones and excellent image details, although some portions of the print show signs of wear. The natural-speed, high-definition video transfer captures and renders all of it. No digital stabilization of picture has been performed, as the image smoothly moves about inside the windowboxed frame; a truthful acknowledgement of the state of motion picture technology in the 1920s, but a little disappointing given the capabilities of today's digital world. However, the excellent video transfer flawlessly renders difficult visual elements like smoke and ripples in water. This DVD edition, with its average 8.5 Mbps video data bit rate, looks so good with line-doubling on an HD system that it is hard to imagine the film would look much better on Blu-ray Disc.
The film is accompanied by two optional music scores: an orchestral score composed and conducted by Robert Israel (with Israel performing on piano and what sounds like a Fotoplayer in the barroom scenes), and a music score composed and performed on piano by Donald Sosin, with vocals by Joanne Seaton. While the Sosin score is very fine and entertaining, our preference is for the plush Robert Israel orchestral score.
The collection's supplemental material includes visual essays by UCLA film professor Janet Bergstrom and film scholar Tag Gallagher, a 1968 Swedish television interview with Sternberg, and a 96-page booklet featuring the original film treatment for Underworld by Ben Hecht, essays by film critic Geoffrey O'Brien, film scholar Anton Kaes, and author Luc Sante, and an excerpt on actor Emil Jannings from Sternberg's autobiography, Fun in a Chinese Laundry.
It's time to toss that worn-out VHS videotape copy you've been holding onto since the 1980s, this DVD edition is highly recommended for its spectacular HD transfer and the wonderful music scores.
USA: Click the logomark to purchase this Region 1 NTSC DVD edition from Amazon.com. Your purchase supports the Silent Era website.
Canada: Click the logomark to purchase this Region 1 NTSC DVD of this edition from Amazon.ca. Your purchase supports the Silent Era website.
United Kingdom: Click the logomark to purchase this Region 1 NTSC DVD edition from Amazon.co.uk. Your purchase supports Silent Era.
This Region 1 NTSC DVD edition is also available directly from THE CRITERION COLLECTION.