Reviews of silent film releases on home video.
Copyright © 1999-2018 by Carl Bennett
and the Silent Era Company.
All Rights Reserved.
The Alloy Orchestra
Plays
Wild and Weird
14 Fascinating and Innovative Films 1902-1965
(1902-1965)
Contents: Le voyage dans la lune [A Trip to the Moon] (1902), Dream of a Rarebit Fiend (1906), Le spectre rouge [The Red Spectre] (1907), The Acrobatic Fly (1908), The Thieving Hand (1908), Princess Nicotine; or, The Smoke Fairy (1909), Those Awful Hats (1909), Arthème avale sa clarinette [Artheme Swallows His Clarinet] (1912), Miest kinooperatora [The Cameraman's Revenge] (1912), The Pet (1921), The Playhouse (1921), Filmstudie (1926), The Life and Death of 9413, a Hollywood Extra (1928), Clay; or, The Origin of Species (1965).
This compilation has filled an interesting niche in silent film collecting, being for the most part, focused more on the musical accompaniment of films. The collection presents varied musical styles by The Alloy Orchestra to a loosely organized parade of films that are of an experimental or simply unusual ilk. Most of the films have been presented on home video before in other collections, so the scarceness of the films is not the attraction but, instead, it is the music that is important. As we have said before, if you are familiar with The Alloy Orchestra's work you either love them or hate them. We love their sometimes quirkiness, sometimes melodic, often thrashing approach to silent film accompaniment. We feel that, with so many fine practitioners of the historic forms of silent film accompaniment, there is room — even a need — for alternate forms of music to bring silent films alive for audiences who might think that they and their traditional forms of music are too old-fashioned to be of interest.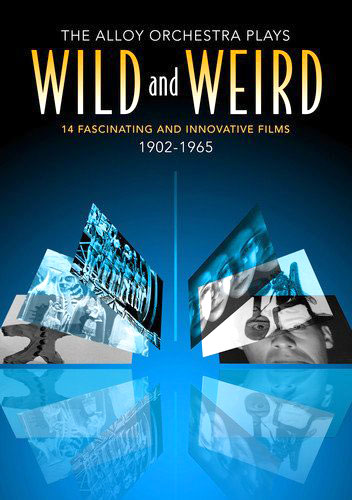 Flicker Alley
2011 DVD edition

The Alloy Orchestra Plays Wild and Weird: 14 Fascinating and Innovative Films 1902-1965 (1902-1965), black & white, 140 minutes total, not rated,
including Le Voyage dans la lune [A Trip to the Moon] (1902), black & white, 13 minutes, not rated, Dream of a Rarebit Fiend (1906), black & white, 8 minutes, not rated, Le spectre rouge [The Red Spectre] (1907), color-toned black & white, 9 minutes, not rated, The Acrobatic Fly (1908), color-tinted black & white, 3 minutes, not rated, The Thieving Hand (1908), black & white, 6 minutes, not rated, Princess Nicotine; or, The Smoke Fairy (1909), black & white, 5 minutes, not rated, Those Awful Hats (1909), black & white, 3 minutes, not rated, Arthème avale sa clarinette [Artheme Swallows His Clarinet] (1912), black & white, 4 minutes, not rated, Miest kinooperatora [The Cameraman's Revenge] (1912), color-toned black & white, 13 minutes, not rated, The Pet (1921), black & white, 10 minutes, not rated, The Playhouse (1921), black & white, 23 minutes, not rated, Filmstudie (1926), black & white, 5 minutes, not rated, The Life and Death of 9413, a Hollywood Extra (1928), black & white, 13 minutes, not rated, and Clay; or, The Origin of Species (1965), black & white, 8 minutes, not rated.

Flicker Alley, FA0021, UPC 6-17311-67649-9, ISBN 1-893967-64-6.
One single-sided, dual-layered, Region 0 NTSC DVD disc, 1.33:1 aspect ratio image in full-frame 4:3 (720 x 480 pixels) interlaced scan MPEG-2 format, ? Mbps average video bit rate, ? kbps audio bit rate, Dolby Digital 2.0 stereo sound, English language intertitles, no foreign language subtitles, chapter stops; standard DVD keepcase, $29.95.
Release date: 28 June 2011.
Country of origin: USA