People active in the silent era and people who keep the silent era alive.
Copyright © 1999-2018 by Carl Bennett and the Silent Era Company.
All Rights Reserved.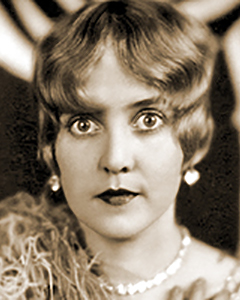 Photograph: Silent Era image collection.
Ruth Taylor
Born 13 January 1905 in Grand Rapids, Michigan, USA, as Ruth Alice Taylor.
Died 12 April 1984 in Palm Springs, California, USA.
Married Paul Steinberg Zuckerman, 17 March 1930; son, Henry Zuckerman (Buck Henry), born 9 December 1930;
until Paul's death, 3 December 1965.
Ruth Taylor was raised in Portland, Oregon, and after graduating from high school she convinced her mother to take her to Hollywood. Responding to an advertisement, Ruth was signed to a contract with Mack Sennett Comedies in 1925. For her film debut, Ruth was cast with Billy Bevan in The Iron Nag (1925). She appeared in a number of Sennett comedies as a lead and as a supporting player during her two-year contract, and appeared in films with Bevan, Andy Clyde, Alice Day, Vernon Dent, Ralph Graves, Harry Langdon, Raymond McKee, Eddie Quillan, Ben Turpin, and other Sennett regulars.
After her Sennett contract was completed, Ruth Taylor began working at Paramount Famous Lasky Corporation, with her first role as Lorelei Lee in the original film adaptation of Gentlemen Prefer Blondes (1927). In 1929 she appeared in her first sound film, A Hint to Brides (1929), for Christie Film Company, and she appeared in other films for Columbia Pictures Corporation and Pathé Exchange, Incorporated. Her last film appearance was released in 1930 and Ruth soon retired from motion picture work as she had married and in quick succession become pregnant with her only child, Henry, who in later years became better known as writer/actor Buck Henry.
References: Website-IMDb; Website-Wikipedia.