People active in the silent era and people who keep the silent era alive.
Copyright © 1999-2018 by Carl Bennett and the Silent Era Company.
All Rights Reserved.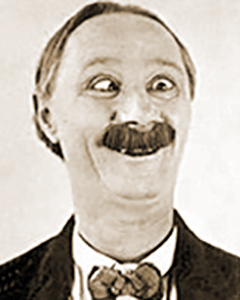 Photograph: Silent Era image collection.
Ben Turpin
Born 19 September 1869 in New Orleans, Louisiana, USA, as Bernard Turpin.
Died 1 July 1940 in Santa Monica, California, USA, of heart disease.
Married actress Carrie LeMieux, 1907; until Carrie's death.
Married Babette Dietz, 8 July 1926; until Ben's death, 1 July 1940.
References: Website-IMDb.