Reviews of silent film releases on home video.
Copyright © 1999-2018 by Carl Bennett
and the Silent Era Company.
All Rights Reserved.
Le Voyage
imaginaire
(1926)
This fantasy comedy-drama, directed by René Clair, features Dolly Davis, Jean Börlin, Albert Préjean, Jim Gérald, Paul Ollivier, Maurice Schutz, Marguerite Madys and Yvonne Leguay.
Three office workers are smitten with Lucy, the typist (Davis). Milquetoast Jean (Börlin) is shyly the most taken with her. The village fortune-teller (Schutz), an old hag of a lady, reads the palms of Lucy and Jean and tells them of future romances and dreams come true.
Jean takes an interlude in a park and comes upon the old woman being mugged. He impulsively rescues her and comes to learn that she is actually a fairy, and that her powers are returned by the kiss of a young man. The old woman takes Jean into the fairy underworld where he is mobbed a group of old women he is told are fairies, as well. Wrestling with revulsion, Jean is convinced to kiss them which returns the fairies to youth and their powers.
Jean is rewarded with eternal youth but he still pines for Lucy, who is brought into the fairy world to be with Jean. However, Jean's amorous competitors Albert (Préjean) and August (Gérald) are also drawn into the fairy world.
Life is idyllic for all until the jealous and evil fairy (Madys) causes trouble, the quartet are returned to the real world and surrealist chaos ensues . . .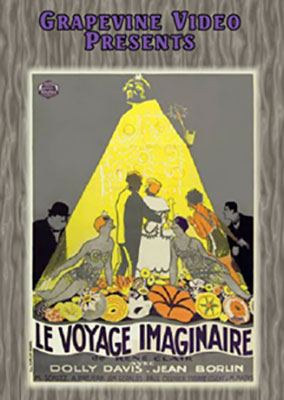 Grapevine Video
2008 DVD edition

Le Voyage imaginaire (1926), black & white, 65 minutes, not rated,
with Cartoon Factory (1924), black & white, 9 minutes, not rated.

Grapevine Video, no catalog number, UPC 8-42614-10345-2.
One single-sided, single-layered, Region 0 NTSC DVD-R disc, 1.33:1 aspect ratio image in full-frame 4:3 (720 x 480 pixels) interlaced scan MPEG-2 format, ? Mbps average video bit rate, ? kbps audio bit rate, Dolby Digital 2.0 mono sound, English language intertitles, no foreign language subtitles, 6 chapter stops; standard DVD keepcase, $16.95.
Release date: 2008.
Country of origin: USA

Ratings (1-10): video: 5 / audio: 4 / additional content: 5 / overall: 5.
This DVD-R edition has been mastered from a good 16mm reduction print. The video transfer is coarse but holds some of the shadow details of the picture, which doesn't always happen. That being said, there are still a small number of very dark shots. The foreign language intertitles of the source print have been translated into English and set as video still frames.
The film is accompanied by a serviceable compilation of preexisting orchestral music recordings.
We certainly think that the film should be released sometime soon in a high-quality edition. In the meantime, this is a viewable edition at best.
USA: Click the logomark to purchase this Region 0 NTSC DVD-R edition from Amazon.com. Your purchase helps support the Silent Era website.
This Region 0 NTSC DVD-R edition is also available directly from GRAPEVINE VIDEO.