People active in the silent era and people who keep the silent era alive.
Copyright © 1999-2018 by Carl Bennett and the Silent Era Company.
All Rights Reserved.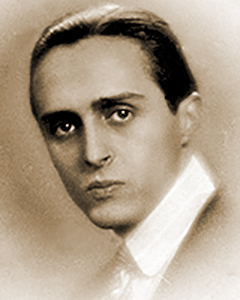 Photograph: Silent Era image collection.
René Clair



Born 11 November 1898 in Paris, France, as René-Lucien Chomette.
Died 15 March 1981 in Neuilly-sur-Seine, France.
Brother of director, writer and actor, Henri Chomette, born 1896.
Married Bronja Perlmutter, 1926; son, Jean-François Clair, born 1927; until René's death, 15 March 1981.
René Clair, son of a Paris soap merchant, attended the Lycée Montaigne and the Lycée Louis-le-Grand, at one point studying philosophy. At age 18, Clair began his World War I service as an ambulance driver before suffering a spinal injury. His professional career began as a journalist for L'Intransigeant, a leftist newspaper.
His film career began in 1920, when music-hall singer Damia suggested he visit Gaumont studios, where surprisingly he was cast in the leading role in Le Lys de la vie (1920), for which he changed is name to René Clair. He periodically continued to act in films and write. In 1922, he became the editor of a film supplement to the monthly publication, Théâtre et Comœdia illustrés. Introduced by his brother Henri, René became an assistant to director Jacques de Baroncelli. In 1924, Clair was given the chance to direct his first film, the short fantasy Paris qui dort (1924). Quickly, it was followed by the Avant-Garde short Entr'acte (1924), which was requested of Clair by Erik Satie and Francis Picabia to accompany a short break in a presentation of their Dadaist ballet Relâche.
Clair directed his first feature-length film, Le Fantôme du Moulin-Rouge (1925) for Films René Fernand. Le Voyage imaginaire (1926), directed for producer Georges Loureau, was a bolder and funnier examination of the fantasy of dreams. Clair soon joined Alexandre Kamenka's successful Films Albatros company to direct La Proie du vent (1926), the comedy Un Chapeau de paille d'Italie (1928), and Les Deux timides (1928).
René Clair is perhaps best remembered for the films he directed following the silent era: Sous les toits de Paris (1930), Le Million (1931), À nous la liberté (1931), produced in France; and I Married a Witch (1942), and And Then There Were None (1945) produced in America for his own production company.