Reviews of silent film releases on home video.
Copyright © 1999-2018 by Carl Bennett
and the Silent Era Company.
All Rights Reserved.

The Power of
the Press
(1928)

This Frank Capra newspaper comedy-drama stars a young Douglas Fairbanks Jr., Jobyna Ralston and Mildred Harris in a story of political intrigue and murder.

Cub reporter Clem Rogers (Fairbanks) gets a break when he is assigned to cover the murder of the district attorney. Rogers sees Jane Atwill (Ralston), the daughter of a front-running mayorial candidate, leaving the scene of the crime through a window and writes a front page story scoop. Atwill becomes the main suspect in the murder, but overconfident Clem is fired and soon suspects that he may have jumped to conclusions. From a portfolio of photographs given to Jane by the murdered man, Clem and Jane investigate clues that lead to her father's political rival Robert Blake (Philo McCullough) and his henchman Van (Wheeler Oakman).

Fairbanks is charming in a leading role early in his career, Oakman stands out as a dapper thug, and Dell Henderson brings some Capra comedy to the story as an antagonistic veteran reporter. Harris is OK in an uncharacteristic role as a tough dame, but Ralston is disappointing in a performance that could have been turned in by any number of actresses of the time.

For the few persons interested in vintage printing technology, when Clem's first story breaks and the front page is restruck, Capra gives us a peek at the newspaper production process from typesetting to platemaking to printing press. — Carl Bennett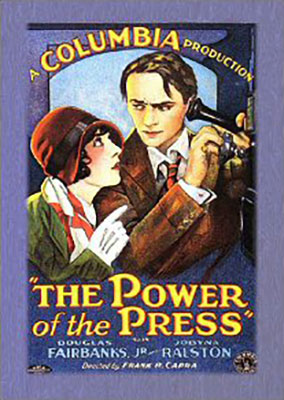 Grapevine Video
2010 DVD edition

The Power of the Press (1928), color-tinted black & white, 64 minutes, not rated.

Grapevine Video, no catalog number, UPC 8-42614-10389-6.
One single-sided, single-layered, Region 0 NTSC DVD-R disc, 1.33:1 aspect ratio image in full-frame 4:3 (720 x 480 pixels) interlaced scan MPEG-2 format, 6 Mbps average video bit rate, 1000 kbps audio bit rate, Dolby Digital 2.0 stereo sound, English language intertitles, no foreign language subtitles, 12 chapter stops; standard DVD keepcase, $14.95.
Release date: 2 April 2010.
Country of origin: USA

Ratings (1-10): video: 6 / audio: 7 / additional content: 0 / overall: 6.
This DVD-R edition has been mastered from a very-good color-tinted 16mm reduction print. The range of tones in the source print are reasonably broad, with mostly controlled and detailed highlights but also with many plugged-up shadows. Some brief portions of the original source print were shrinking, so there is some warping of the picture in sections of the film. Dust and speckling are present in the print, as is a number of flaws such as scratches, splices, schmutz, processing flaws, and huge timing marks. And the print is missing some key footage as Clem and Marie are held at gunpoint by Van, then he is suddenly tied up. Overall, the print remains quite watchable but one wishes it were in better condition and the video transfer a little more detailed.
The film is accompanied by an orchestral music score of stock music, compiled by edition producer Jack Hardy. The audio fidelity is far better than in earlier Grapevine product and does a reasonable job of conveying the film's mood.
It's not the best-looking disc but we are happy that another silent era Frank Capra film has been released on DVD home video, and we recommend this edition of The Power of the Press.
USA: Click the logomark to purchase this Region 0 NTSC DVD-R edition from Amazon.com. Your purchase supports the Silent Era website.
This Region 0 NTSC DVD-R edition is available directly from GRAPEVINE VIDEO.