People active in the silent era and people who keep the silent era alive.
Copyright © 1999-2018 by Carl Bennett and the Silent Era Company.
All Rights Reserved.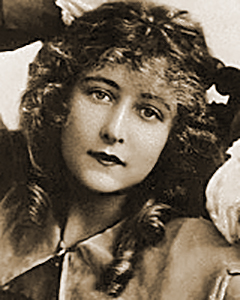 Photograph: Silent Era image collection.
Mildred Harris
(same as Mildred Harris Chaplin)
Born 29 November 1901 in Cheyenne, Wyoming, USA.
Died 20 July 1944 in Hollywood, California, USA, of pneumonia.
Married actor Charles Chaplin, October 1918; divorced, 1920.
Married Eldridge T. McGovern; divorced, 1929.
Married William P. Fleckenstein.
Mildred Harris is infamous as the 16-year-old child bride of Charles Chaplin. But she had her own moderately successful film career, and continued to work in motion pictures until her death.
References: Website-IMDb.