Reviews of silent film releases on home video.
Copyright © 1999-2018 by Carl Bennett
and the Silent Era Company.
All Rights Reserved.

Parisian Love
(1925)

Parisian Love (1925) begins with Marie (Clara Bow) and Armand (Donald Keith), Apache criminals in a rough district of Paris. They and another thug target rich scientist Pierre Marcel (Lou Tellegen) for a midnight robbery. But the third man is killed after Armand stops him from murdering Marcel during the botched robbery. Already wounded, Armand succombs to blood poisoning and is nursed by Marcel after he discovers that Armand was a former student of his at university.

During a Marcel party, Marie replaces the regular maid to gain entry to the house and Armand. An amusing scene follows where she is mashed by a couple of male guests. Hiding in Armand's room, Marie watches as Marcel introduces Armand to eager Jeanne, intending to help him forget his criminal past. Armand is soon healthy and is keeping company with Marcel and Jeanne. Marcel makes it known that he is imposing on Armand a six month forced stay — a sentence. Armand accepts the confinement on the condition that he may be allowed to go where he wants for one hour. Armand goes to coarse La Frouchard's flat where Marie has been raised as an orphan to discover that she has left there for good. Marie intends to do harm to Marcel for plucking Armand from her life. Posing as an acquaintance of a dead friend of Marcel's, Marie and a disguised La Frouchard (Lillian Leighton) gain welcome entry to Marcel's home while Armand is in London marketing a burglar alarm of his own design.

Marie soon reveals her plan to the Apache gang: she will marry Marcel and strip him of all his wealth. Soon Marcel is actively pursuing Marie and a marriage quickly follows. In an act of remorseful confession, Frouchard reveals to Marcel that Marie was actually stolen at birth from a high-borne family and not the orphan that she thinks she is. Marie intends to keep her distance from Marcel for Armand. She reveals to Marcel her truth of revenge. Meanwhile, Armand has just arrived from London and she flies to his arms. Outside, the Apaches are creeping about looking for their own revenge on Marie for her supposed betrayal of them. She is shot through a window. Receiving her kiss from Armand she passes out in his arms as a crushed Marcel looks on. However, she is attended by a doctor in time to save her life. The next day, Marcel arranges an annullment and travels to America in Armand's stead. The couple are together again and will presumably live a happy life of leisure from the proceeds of the alarm syndicate.

Marie is played by Bow with a swagger that is uniquely hers: vibrant and appealing. — Carl Bennett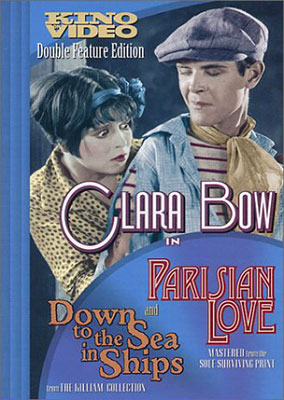 Kino on Video
2002 DVD edition

Parisian Love (1925), color-toned black & white, 62 minutes, not rated,
with Down to the Sea in Ships (1922), color-tinted and color-toned black & white, 95 minutes, not rated.

Kino International, K243, UPC 0-38329-02432-1.
One single-sided, dual-layered, Region 0 NTSC DVD disc, 1.33:1 aspect ratio image in windowboxed 4:3 (720 x 480 pixels) interlaced scan MPEG-2 format, 5.5 Mbps average video bit rate, 192 kbps audio bit rate, Dolby Digital 2.0 stereo and mono sound, English language intertitles, no foreign language subtitles, 9 chapter stops; standard DVD keepcase, $29.95.
Release date: 2 April 2002.
Country of origin: USA

Ratings (1-10): video: 8 / audio: 7 / additional content: 7 / overall: 7.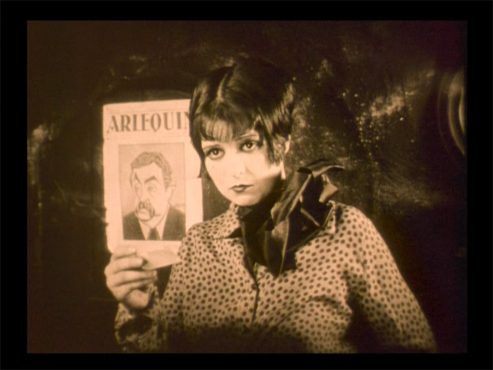 While Parisian Love is little more than a romantic programmer, this is one of the most charming performances by Clara Bow available on home video. Parisian Love was originally released on videotape by Kino in 1999 after the film's public reappearance at the 1998 Pordenone Film Festival in Italy.
This slightly windowboxed presentation of a 35mm print, preserved by the UCLA Film and Television Archive, that was prepared from the sole surviving 35mm nitrate print. The very good print is marked by some minor emulsion chipping and a light amount of speckling, but is generally very pleasant viewing. The video transfer has been made at proper running speed.
The film is accompanied by a piano score composed and performed by Philip Carli, and is well reproduced in digital stereo.
USA: Click the logomark to purchase this Region 0 NTSC DVD edition from Amazon.com. Your purchase supports the Silent Era website.
Canada: Click the logomark to purchase this Region 0 NTSC DVD edition from Amazon.ca. Your purchase supports the Silent Era website.
This Region 0 NTSC DVD edition is also available directly from KINO LORBER.