People active in the silent era and people who keep the silent era alive.
Copyright © 1999-2018 by Carl Bennett and the Silent Era Company.
All Rights Reserved.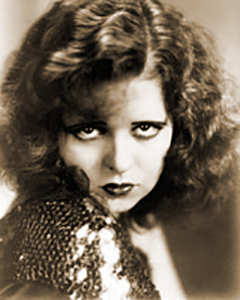 Photograph: Silent Era image collection.
Clara Bow


Born 29 July 1905 in Brooklyn, New York, USA, as Clara Gordon Bow.
Died 27 September 1965 in West Los Angeles, California, USA, of a heart attack.
Married actor George F. Beldon (Rex Bell), 3 December 1931, in Las Vegas, Nevada, USA; son, actor Anthony Beldon (later Rex Anthony Bell Jr.) (born 1934); son, George Robert Beldon (later George Bell) (born 1938); until George's death.
Clara Bow began film work in 1922, after having won a film part through a Motion Picture Magazine contest. She was voted a WAMPAS Baby Star in the early 1920s. Ultimately remembered as "The It Girl," she worked for Whaling Film, Frank Lloyd, Warner Brothers, Arrow Pictures Corporation, Fitzgerald, Preferred, Schulberg, Famous Players-Lasky and Paramount Famous Lasky from 1922 through 1931, before retiring from Hollywood. Among her best-known films are Down to the Sea in Ships (1922), It (1927) and Wings (1927). Clara Bow briefly returned to the screen for Fox in 1932 through 1933.
Bow's husband Rex Bell became lieutenant governor of Nevada in the 1930s, and later ran for the United States House of Representatives.
References: Website-IMDb; Website-Wikipedia.