Reviews of silent film releases on home video.
Copyright © 1999-2018 by Carl Bennett
and the Silent Era Company.
All Rights Reserved.
Monte Cristo
(1922)
This historical drama, based on the beloved novel by Alexandre Dumas, stars John Gilbert, with able support from stalwart players Estelle Taylor, Spottiswoode Aitken, Robert McKim and William V. Mong.
It is 1815 and Edmond Dantes (Gilbert) soon becomes a victim of jealousy, political intrigue, conspiracy and greed. For he has agreed to act as courier of a letter from the dying captain of the ship Pharoah to the exiled Napoléon. Returning home to his father and his love, Mercedes (Taylor), he is about to be promoted as the successive captain of the merchant ship Pharoah when he is implicated as a political conspirator by its quartermaster Danglars (Albert Prisco) and the jealous Fernand Montego (Ralph Cloninger), who wants Mercedes for himself.
The royal prosecutor M. de Villefort (McKim) tricks Dantes into surrendering himself into custody, who believes he will soon be freed, and destroys the evidence that would help Dantes defend himself.
Emprisoned for many years in the prison Chateau d'If, Dantes discovers a fellow prisoner tunneling through the stone-walled prison, the Abbé Faria (Aitken). Their companionship is marked by the exceptional education passed on by Faria to Dantes, as well as a map to a personal fortune hidden on the isle of Monte Cristo. Escaping the prison posing as the corpse of Faria, Dantes claims the fortune and returns to civilization disguised as the Count of Monte Cristo, only to learn that his betrayers have claimed success through deceit and his beloved Mercedes has married Montego, now known as the Count de Morcerf.
Filled with a desire to exact revenge on those who have wronged him, Dantes systematically destroys Montego, Danglars and Villefort through a series of contrivances that exposes them to their greatest fears and the realization that Dantes has returned from the dead.
Simply recounting the novel's storyline was enough to float this successful film adaptation of Dumas in 1922, but with modern audiences the film will fare roughly as it is a bit creaky and unintentionally comical here and there.
Gilbert does a passable job portraying the tragic Dantes, but it is apparent that he benefited from working with the higher-quality directors at MGM later in his career. Director Emmett J. Flynn was a minor Hollywood talent who was rarely able to rise to the level of the material he was picturizing, and on display in Monte Cristo are a number of senseless details of performance business, unimaginative linear actor blocking, and amateurish (almost embarrassing) shot setups and storytelling gaffes. Directors like Flynn make film enthusiasts appreciate the truly talented directors even more. — Carl Bennett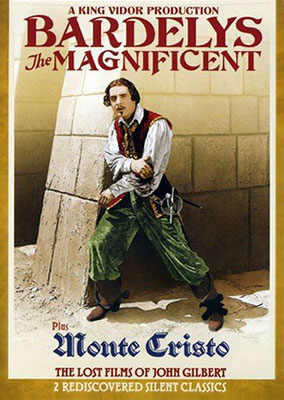 Flicker Alley
2009 DVD edition

Bardelys the Magnificent (1926), black & white, 85 minutes, not rated,
with Monte Cristo (1922), color-tinted and color-toned black & white, 100 minutes, not rated.

Flicker Alley, FA0013, UPC 6-17311-67449-5.
Two single-sided, dual-layered, Region 0 NTSC DVD discs, 1.33:1 aspect ratio image in full-frame 4:3 (720 x 480 pixels) interlaced scan MPEG-2 format, ? Mbps average video bit rate, ? kbps audio bit rate, Dolby Digital 2.0 stereo sound, English language intertitles, no foreign language subtitles, chapter stops; two-disc standard DVD keepcase, $39.95.
Release date: 14 July 2009.
Country of origin: USA

Ratings (1-10): video: 7 / audio: 8 / additional content: 8 / overall: 7.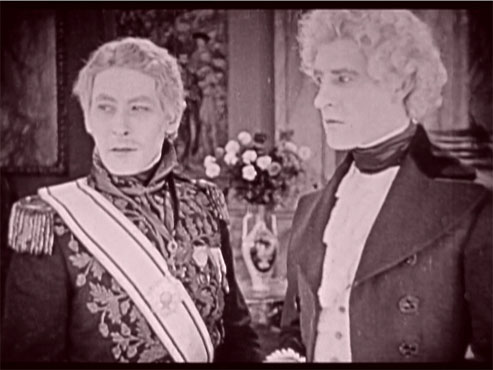 This DVD edition, a collaborative effort of Lobster Films, Film Preservation Associates and Flicker Alley, features the first DVD release of Fox Film Corporation's 1922 adaptation of the Alexandre Dumas novel, which has been prepared from the lone, known surviving print of the film, an incomplete, "worn and choppy" print recovered in Czechoslovakia. Utilizing the original Fox script, this edition features new main titles and restored English language intertitles.
This version of the film likely originates from the "B" camera negative, which was commonly utilized for foreign export prints. It is doubtful the surviving print is a first-generation strike from the original negative, given its picture quality, but the full-frame video transfer captures what image detail there is in the source material, which features a broad range of greytones, with open and detailed shadows but also with some occasional loss of detail in the brightest highlights.
Whether they are not present in the source print (this is likely the case) or whether they have been digitally smoothed away, some textural details in the picture are lost as the transfer appears to have been digitally processed to remove minor scratches, dust, speckling and emulsion wear. Plenty of examples of such flaws still remain in the transfer, which must have riddled with distracting print damage and splices. Examples of extensive emulsion wear are seen beginning at 19:17 into the program, with Dante's arrival at the prison. The apparent digital scrubbing renders rough picture details of the movement of sea ripples and waves. The details of a wing-flapping dove, seen at 20:50, are nearly nonexistent. Unreal-looking rain is distracting at 45:16, and poorly rendered smoke is seen in the Greek flashback beginning at 1:17:03. From 42:31 through 44:23 the smoothed transfer switches to a pointilistic representation of greytones, seen clearly in the lighter greytones (especially in the shot of Dante's fondling of the gold coins), which is especially apparent on a high-definition system. That being said, the resulting video master nonetheless presents a quite viewable edition of the film.
The presentation is accompanied by an entertaining piano score arranged from contemporary French music and performed by Neal Kurz.
The disc also features audio commentary by Jeffrey Vance and Tony Maietta, a presentation of John Gilbert in Bardelys the Magnificent (1926), Rediscovering John Gilbert (2009) featuring a full-length interview with John's daughter Leatrice Gilbert Fountain (32 minutes), an extensive Bardelys the Magnificent image gallery (242 images), a Monte Cristo image gallery (14 images), and an image gallery of Gilbert's 1921 contract with Fox Film Corporation (16 images).
Despite our inclination to point out the flaws of this edition, produced by Eric Lange, Jeffery Masino and David Shepard, we still recommend it as a scarce John Gilbert film which has finally come to light.
USA: Click the logomark to purchase this Region 0 NTSC DVD edition from Amazon.com. Your purchase supports the Silent Era website.
Canada: Click the logomark to purchase this Region 0 NTSC DVD edition from Amazon.ca. Your purchase supports the Silent Era website.