Reviews of silent film releases on home video.
Copyright © 1999-2018 by Carl Bennett
and the Silent Era Company.
All Rights Reserved.
The Count of
Monte Cristo
(1913)
This early feature-film adaptation of the venerated novel by Alexandre Dumas and Auguste Maquet was directed by Edwin S. Porter and Joseph A. Golden, and stars James O'Neill (father of playwright Eugene O'Neill).
O'Neill's film acting, obviously borne of years of large theatre performances, is big and sweepingly theatrical. Porter and Golden's direction, borne of the early film techniques of a decade before, is itself theatrical and old-fashioned, while film direction was already maturing in leaps and bounds at Biograph and elsewhere. Shot when the American feature film was just emerging late in 1912, the production managed some requisite pacing and tension to make the film effective. Much of the novel's plot is rapidly but cohesively played out in the production.
This adaptation, shot in the Crystal Studios in New York late in 1912, was the actual first film production of Adolph Zukor's Famous Players Film Company. When Selig Polyscope Company beat it to nationwide release with their own version of The Count of Monte Cristo (1912), the film was shelved for later release (which did happen in November 1913). Subsequently, Famous Players brought suit against Selig and won. — Carl Bennett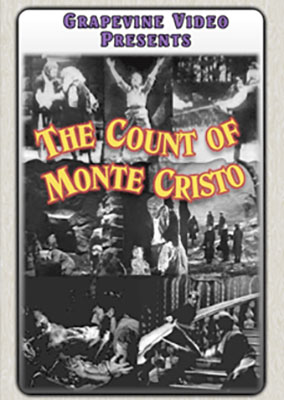 Grapevine Video
2008 DVD edition

The Count of Monte Cristo (1913), black & white, 60 minutes, not rated,
with Monte-Cristo (1929), black & white, 40 minutes, not rated, and The Wife of Monte Cristo [Monte Cristo, the Avenger] (1946), black & white, 20 minutes, not rated.

Grapevine Video, no catalog number, UPC 8-42614-10329-2.
One single-sided, single-layered, Region 0 NTSC DVD-R disc, 1.33:1 aspect ratio image in full-frame 4:3 (720 x 480 pixels) interlaced scan MPEG-2 format, ? Mbps average video bit rate, ? kbps audio bit rate, PCM 2.0 mono sound, English language intertitles, no foreign language subtitles, 6 chapter stops; standard DVD keepcase, $12.95 (raised to $14.95).
Release date: 2008.
Country of origin: USA

Ratings (1-10): video: 3 / audio: 5 / additional content: 5 / overall: 4.
This DVD-R edition has been mastered from an old analog-video-based master of a video transfer from what appears to be an 8mm reduction print. While the source print is quite soft in image detail, and contrasty with indistinct greyed highlights, plugged-up shadows and exposure fluctuations, the print holds a reasonable range of middle greytones. Some videotape master glitches momentarily appear at the bottom and, elsewhere, in the middle of the picture.
Some lengths of footage are repeated in the print, giving rise to our extrapolation that the original source for this reduction print was a loosely-edited 35mm print submitted for copyright registration (similar evidence of loose editing — actors frozen in still starts and stops to shots, out-of-sequence shots, repeated shots, etc. — are seen in other prints submitted for copyright). The duplicated footage could have been edited from the video transfer.
The film is accompanied by a pipe organ music score with a few synchronized sound effects.
While it doesn't look great and can be tough viewing, compared to the old EP-speed VHS videotape edition from the 1980s that we previously held (transferred from this same source print) this DVD edition looks better. At least we have the opportunity to enjoy this important early American feature film production.
USA: Click the logomark to purchase this Region 0 NTSC DVD-R edition from Amazon.com. Your purchase supports the Silent Era website.
This Region 0 NTSC DVD-R edition has been discontinued by GRAPEVINE VIDEO.