Reviews of silent film releases on home video.
Copyright © 1999-2018 by Carl Bennett
and the Silent Era Company.
All Rights Reserved.
A Girl in
Every Port
(1928)
This lively comedy stars Victor McLaglen and Robert Armstrong, with support from Louise Brooks, in a story of two globe-trotting sailors who compete for amorous conquests in the world's ports. This first of director Howard Hawks' 'buddy-buddy' films led to a series of subgenre productions that became one of his trademarks.
Merchant marine Spike Madden (McLaglen) seems two steps behind in each port he reaches, with his girls sporting the trademark of another wooing sailor with frustrating regularity. He comes to recognize his rival, Bill (Armstrong), who not only loves the women, he also hates the law and loves a rousing bar fight. The two troublemaking sailors come to a buddy-buddy relationship, fighting, drinking and wooing the whole way, until Spike meets a high-diving con artist, Godiva (Brooks), and begins to think of settling down. Knowing Spike is being a sap, Bill decides to stay in port to look after his friend, particularly when he meets Godiva, whom he already knows as Tessie from Coney Island.
Mammouth McLaglen towers over average Armstrong, both in stature and in charisma, but that doesn't keep them from developing an on-screen chemistry that made this one of the most-popular films of 1928. — Carl Bennett
Grapevine Video
2002 DVD edition

A Girl in Every Port (1928), black & white, 81 minutes, not rated,
with Stork Mad (1926), black & white, 25 minutes, not rated.

Grapevine Video, no catalog number, UPC 8-42614-10034-5.
One single-sided, single-layered, Region 0 NTSC DVD-R disc, 1.33:1 aspect ratio image in full-frame 4:3 (720 x 480 pixels) interlaced scan MPEG-2 format, 5.5 Mbps average video bit rate, ? kbps audio bit rate, Dolby Digital 2.0 mono sound, English language intertitles, no foreign language subtitles, 8 chapter stops; standard DVD keepcase, $16.95.
Release date: 2002.
Country of origin: USA

Ratings (1-10): video: 5 / audio: 5 / additional content: 4 / overall: 5.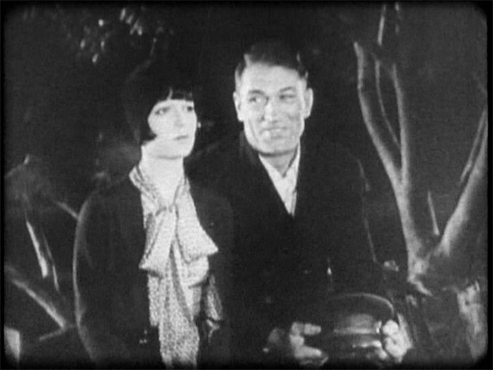 This DVD-R edition has been transferred from a 16mm reduction print of good to very-good quality that has some problems including contrastiness, with pinched shadows and blasted-out highlights, speckling, dust, and slight but brief print damage. However, the disc is watchable, with its generally broad middle range of greytones and modest image details that keep intertitles readable and the action easy to follow. The disc benefits from play on high-definition equipment with upscaling capabilities, as the upconversion to a progressive HD signal slightly smooths out the coarseness of the print and video transfer.
The film is accompanied by a series of preexisting recordings, from a variety of film soundtrack sources, edited together into some semblance of logic.
The disc is supplemented with a silly Bobby Ray comedy short, featuring Molly Malone, transferred from a good to very-good 16mm reduction print, with original intertitles and a reissue main title, that has some problems with dark print processing sections throughout.
Far from ideal, this DVD-R is watchable (and collectible) until a quality edition comes along.
USA: Click the logomark to purchase this Region 0 NTSC DVD-R edition from Amazon.com. Your purchase supports the Silent Era website.
This Region 0 NTSC DVD-R edition is available directly from GRAPEVINE VIDEO.