Reviews of silent film releases on home video.
Copyright © 1999-2018 by Carl Bennett
and the Silent Era Company.
All Rights Reserved.

Feel My Pulse
(1928)

No longer exclusively playing dark heavies, the familiar William Powell comedic charm that is so well-known today from his later sound-film roles begins to emerge in this lively Bebe Daniels comedy vehicle from Paramount that also stars Richard Arlen.

When an eccentric millionaire dies, his will instructs that his infant daughter Barbara Manning (Daniels) must lead a germ-free life until she is twenty-one years old, with her meek and overly-cautious Uncle Edgar (George Irving) overseeing the effort. At the maturation of the will, Barbara is a full-blown hypochondriac, wary of each potential infection and overexertion, with her supervision now taken over by her rough-and-tumble Uncle Wilburforce (Melbourne MacDowell).

Escaping possible exile on her uncle's ranch, Barbara instead flees to an inherited island sanitarium that has unknowingly been taken over by a gang of rumrunners led by Phil Todd (Powell). When freshman gang member Wally Roberts (Arlen) meets Barbara, he is immediately intrigued by her haughty airs and proceeds to air her out.

Her arrival at the remote sanitarium forces Todd to impersonate a doctor, and his gang the sanitarium staff, to appease Barbara's medical neediness and circumvent exposure of his enterprise.

Bebe Daniels is her usual charming self as the clueless heiress, and Powell menacingly funny as a bogus doctor, but Arlen is the one who benefits from his romantic role as the good-hearted gangster — a twist on the few available Arlen films from the silent era and a worthwhile chapter in any evaluation of his career. — Carl Bennett
Grapevine Video
2003 DVD edition

Feel My Pulse (1928), black & white, 63 minutes, not rated,
with Line's Busy (1924), black & white, 18 minutes, not rated.

Grapevine Video, no catalog number, unknown UPC number.
One single-sided, single-layered, Region 0 NTSC DVD-R disc, 1.33:1 aspect ratio image in full-frame 4:3 (720 x 480 pixels) interlaced scan MPEG-2 format, ? Mbps average video bit rate, ? kbps audio bit rate, PCM 1.0 mono sound, English language intertitles, no foreign language subtitles, 9 chapter stops; standard DVD keepcase, $19.95 (reduced to $14.95).
Release date: 2003.
Country of origin: USA

Ratings (1-10): video: 4 / audio: 4 / additional content: 3 / overall: 4.
This DVD-R edition from public-domain home video company Grapevine Video has been transferred at a slightly fast playback rate from a very-good 16mm reduction print that has the usual shortcomings of soft image details, plugged-up picture shadows and occasional highlight flares, and film grain with coarse greyscale transitions. But, who's counting? The disc remains watchable (eh . . . barely), even on high-definition systems.
The film is accompanied by a canned score of prerecorded music from a variety of sprite filmprint and record sources.
The disc has been supplemented with a Billy West comedy transferred from a 16mm reduction print.
While we have viewed better-looking 35mm prints of Feel My Pulse, this is the only available edition of the film on DVD home video. It warrants an informed recommendation with the caveat that we hope a higher-quality edition of this fun film will be released soon.
This Region 0 NTSC edition is available directly from GRAPEVINE VIDEO.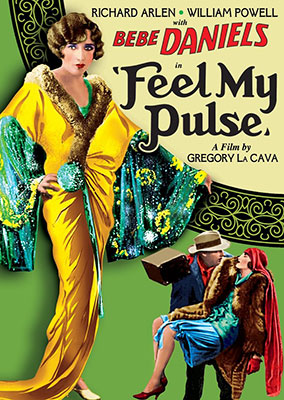 Alpha Video
2013 DVD edition

Feel My Pulse (1928), black & white, 62 minutes, not rated.

Alpha Home Entertainment, ALP 7242D, UPC 0-89218-72429-8.
One single-sided, single-layered, Region 0 NTSC DVD-R disc, 1.33:1 aspect ratio image in full-frame 4:3 (720 x 480 pixels) interlaced scan MPEG-2 format, ? Mbps average video bit rate, ? kbps audio bit rate, Dolby Digital 1.0 mono sound, English language intertitles, no foreign language subtitles, chapter stops; standard DVD keepcase, $7.98.
Release date: 31 December 2013.
Country of origin: USA