Reviews of silent film releases on home video.
Copyright © 1999-2018 by Carl Bennett
and the Silent Era Company.
All Rights Reserved.

Eternal Love
(1929)

It is a dream coupling. Not the reteaming of John Barrymore and the lovely Camilla Horn, but of Barrymore and director Ernst Lubitsch. In this last silent film for both Lubitsch and Barrymore, the pair make good use of their individual talents in this romantic drama that is an often overlooked film in both their canons.

It is 1806 in the village of Pontresina, Switzerland. Marcus (Barrymore) is a loner mountain man in love with Ciglia (Camilla Horn), a young woman of the village who has been rejecting the advances of Lorenz (Victor Varconi). The mischevous Pia (Mona Rico) throws herself at Marcus, but is also rejected. She's an absolute brat. Ciglia and Marcus profess their love, while the jealous and vindictive Pia oversees. The people of Pontresina celebrate their liberation from the French Army occupation with a boisterous masked dance that foretells today's slamming mosh pits. At the party, Ciglia becomes frightened of drunken Marcus and has him take her home. Marcus goes home, confused and cloudy minded. Pia boldly attempts to seduce Marcus. He succombs, or does he? The next day, Ciglia receives permission from her uncle Tass (Hobart Bosworth) to marry Marcus. But Pia and her mother see Tass, then come to Marcus, with Ciglia overhearing, and demand that Marcus marry Pia, who plays the cowering innocent. Ciglia sadly leaves Marcus. Marcus and Pia do get married. Meanwhile, Lorenz swoops in on Ciglia and eventually they also get married. During a big snowstorm, Pia becomes desperate to form a rescue party to find Marcus. She resorts to her final appeal, at the home of Lorenz and Ciglia. Ciglia overreacts to the news and raises Lorenz's suspicions about her affections. Ciglia discovers Marcus safely arriving in the village. Lorenz, consumed in jealously and sorrow, soon thereafter confronts Marcus, urging Marcus to leave the village and offering money. Marcus refuses. Pia greedily sees the opportunity to leave for a more comfortable life and turns harridan. Lorenz, later, sees an opportunity to ambush Marcus in the mountains. The two exchange gunfire. Marcus returns to the village, followed by the accusing and dying Lorenz. The villagers turn against Marcus despite Ciglia's cries of his innocence. Pia steps forward to accuse Ciglia of putting Marcus up to the murder of Lorenz. The villagers turn mob, and pursue Marcus and Ciglia into the mountains. What will happen? What can happen?

These tragic love stories can be tough to maintain a balance between drudging melodrama and an unintended comic extreme. Lubitsch handles the material without any risk of comic misinterpretation, but skates perilously close to the edge of the maudlin. When all is assessed later, the film remains a pleasing love story and a slightly above average effort by Lubitsch. Among its technical aspects, the film features a number of tracking shots that smoothly, if not a little self-consciously, move in and out of the action.

Barrymore is charming, as usual, in this romantic role that allows him to be endearingly brutish, frighteningly drunk and hopelessly in love. Barrymore's makeup in the film is old-fashioned and a bit extreme for 1929, but old habits die hard. However, there can be no question why Barrymore was a star when his films are viewed today, and Eternal Love is not an exception. While his acting roots were steeped in the formal traditions of the 19th century stage, with all the posing and posturing and histrionics, Barrymore projected something of the wry charm of today's Hollywood bad boys. That is, the type of man a woman shouldn't bring home to meet father but a man that nonetheless cannot be resisted.

Camilla Horn is beautiful and sympathetic in the film, with a number of well-shot close-ups that will please her fans. Varconi turns in an average performance that requires little more from him. And Hobart Bosworth is the stoic character actor of his later years here. However, Mona Rico props up the film with both the cinematic appearance and attitude to easily pull off her role as the film's antagonist. Her performance is certain to evoke contemptuous hisses from theater audiences. — Carl Bennett
The Milestone Collection
2001 DVD edition

Eternal Love (1929), black & white, 71 minutes, not rated.

Milestone Film & Video, distributed by Image Entertainment,
ID9198MLSDVD, UPC 0-14381-91982-0.
One single-sided, single-layered, Region 0 NTSC DVD disc, 1.33:1 aspect ratio image in windowboxed 4:3 (720 x 480 pixels) interlaced scan MPEG-2 format, 7.5 Mbps average video bit rate, 192 kbps audio bit rate, Dolby Digital 2.0 mono sound, English language intertitles, no foreign language subtitles, 12 chapter stops; snapper DVD case, $29.99.
Release date: 24 April 2001.
Country of origin: USA

Ratings (1-10): video: 6 / audio: 7 / additional content: 7 / overall: 7.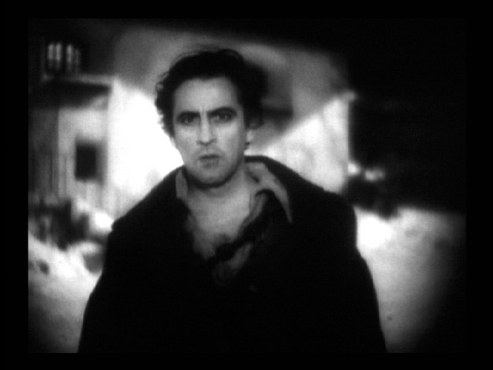 This DVD edition of Eternal Love has been restored by the UCLA Film and Television Archive from a print provided by the Mary Pickford Institute for Film Education. The UCLA restoration print includes a note that original 35mm nitrate materials were unavailable to restoration technicians, but the source print utilized for the restoration is a very-good 35mm duplicate. The print is slightly soft in image details and is marked with light speckling, but maintains a broad range of greytones.
The video transfer has been presented in a slightly windowboxed format that will be viewed as full-frame on many televisions, yet allowing most if not all of the original images to be seen. Revisiting the transfer on high-definition equipment with upscaling capabilities renders a filmlike picture with few visible video compression artifacts.
The Vitaphone sound elements have been well-transferred from the original 16-inch disks, with a satisfying tonal balance and nearly nonexistant surface noise. It should be satisfying for fans of the Vitaphone system that the soundtrack to this film sounds better after this modern restoration than a 1929 Movietone sound-on-film production, with its own characteristic pops and crackles.
It is worth noting that funding for the restoration of Eternal Love was provided by the American Film Institute Preservation Challenge Grant, American Movie Classics and The Film Foundation. Lab services were provided by YCM Laboratories and Cinetech Laboratory. Coordination of the Vitaphone sound disk elements was provided by Keith Lawrence and Kurt Nauck of The Vitaphone Project.
USA: Click the logomark to purchase this Region 0 NTSC DVD edition from Amazon.com. Your purchase supports the Silent Era website.
Canada: Click the logomark to purchase this Region 0 NTSC DVD edition from Amazon.ca. Your purchase supports the Silent Era website.
This Region 0 NTSC DVD edition is also available directly from MILESTONE FILMS.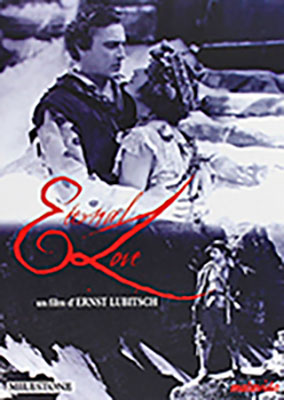 Malavida Films
2005 DVD edition

Eternal Love (1929), black & white, 73 minutes, not rated.

Malavida EDV, unknown catalog number, UPC 3-760098-460311.
One single-sided, dual-layered, Region 0 PAL DVD disc, 1.33:1 aspect ratio image in windowboxed 4:3 (? x ? pixels) interlaced scan MPEG-2 format, ? Mbps average video bit rate, ? kbps audio bit rate, Dolby Digital 2.0 mono sound, English language intertitles, optional French language subtitles, chapter stops; standard DVD case, unknown suggested retail price.
Release date: 5 December 2005.
Country of origin: France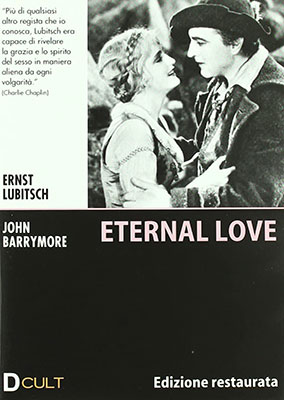 D-Cult
2010 DVD edition

Eternal Love (1929), black & white, 70 minutes, not rated.

Ermitage, unknown catalog number, UPC 8-033109-398107.
One single-sided, single-layered, Region 0 PAL DVD disc, 1.33:1 aspect ratio image in windowboxed 4:3 (? x ? pixels) interlaced scan MPEG-2 format, ? Mbps average video bit rate, ? kbps audio bit rate, Dolby Digital 2.0 stereo sound, English language intertitles, optional Italian language subtitles, chapter stops; standard DVD case, unknown suggested retail price.
Release date: 2010.
Country of origin: Italy