People active in the silent era and people who keep the silent era alive.
Copyright © 1999-2018 by Carl Bennett and the Silent Era Company.
All Rights Reserved.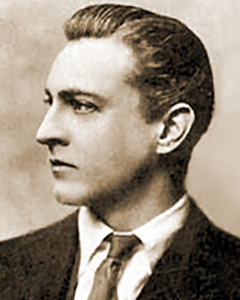 Photograph: Silent Era image collection.
John Barrymore
Born 14 February 1882 in Philadelphia, Pennsylvania, USA, as John Sidney Blythe.
Died 29 May 1942 in Los Angeles, California, USA, of cirrhosis of the liver and pneumonia.
Son of actor Maurice Barrymore (Maurice Blythe) and actress Georgie Drew; brother of actor Lionel Barrymore and actress Ethel Barrymore.
Married actress Katherine Corri Harris, 1 September 1910; divorced, 6 December 1916.
Married writer Blanche Oelrichs (Michael Strange), 5 August 1920; daughter, actress Diana Barrymore; divorced, May 1925.
Married actress Dolores Costello, 1928; son, actor John Drew Barrymore; divorced, 26 October 1936.
Married Elaine Barry, 1936; divorced, 1940.
References: Slide-FineArts p. 54 : Website-IMDb.