Reviews of silent film releases on home video.
Copyright © 1999-2018 by Carl Bennett
and the Silent Era Company.
All Rights Reserved.
Dancing Mothers
(1926)
This minor Famous Players-Lasky drama, directed by Herbert Brenon, features Alice Joyce as a long-suffering wife and mother who gave up her career on the stage for a quiet family life. Meanwhile, her husband (Norman Trevor) and daughter (Clara Bow) are back from bouncing around Europe, bringing with them a couple of shipboard infatuations in the persons of a golddigging 'Russian' vamp and infamous playboy Gerald Naughton (Conway Tearle).
It is not long before we know who the true star of the film is. Alice Joyce's somber, sad stares off into the lonely void that separates her from her selfish family cannot hold command of the screen in the wake of Clara Bow's vivacious and winning performance as the spoiled society party girl. — Carl Bennett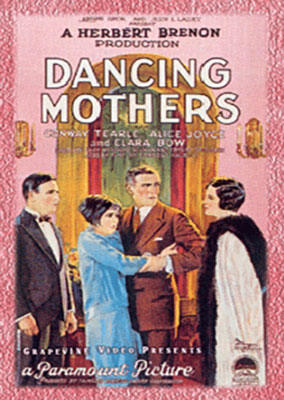 Grapevine Video
2005 DVD edition

Dancing Mothers (1926), black & white, 66 minutes, not rated,
with At First Sight (1924), black & white, 12 minutes, not rated.

Grapevine Video, no catalog number, UPC 8-42614-10029-1.
One single-sided, single-layered, Region 0 NTSC DVD-R disc, 1.33:1 aspect ratio image in full-frame 4:3 (720 x 480 pixels) interlaced scan MPEG-2 format, ? Mbps average video bit rate, ? kbps audio bit rate, PCM 2.0 mono sound, English language intertitles, no foreign language subtitles, 6 chapter stops; standard DVD keepcase, $16.95 (reduced to $14.95).
Release date: 7 February 2005.
Country of origin: USA
This DVD-R edition has been mastered from a rough but good 16mm reduction print that displays a number flaws, such as dust and schmutz, speckling, cupping, and even a print tear. The coarse video transfer does not appear to capture all of the image detail present in the substandard print, but the results are still viewable.
The film is accompanied by a soundtrack compiled from preexisting recordings.
Our hope is that a better home video edition will be produced from a higher-quality print. Meanwhile, this is what is available.
USA: Click the logomark to purchase this Region 0 NTSC DVD-R edition from Amazon.com. Your purchase supports the Silent Era website.
This Region 0 NTSC DVD-R edition is available directly from GRAPEVINE VIDEO.