Reviews of silent film releases on home video.
Copyright © 1999-2018 by Carl Bennett
and the Silent Era Company.
All Rights Reserved.
Asta Nielsen
(1910-1919)
Contents: Afgrunden [The Abyss] (1910), Balletdanserinden [The Ballet Dancer] (1911), Det sorte Drøm [The Black Dream] (1911) and Mod lyset [Toward the Light] (1919).
This collection of short and feature films starring Asta Nielsen will showcase her famed acting talents beyond her well-known appearance in The Joyless Street (1925).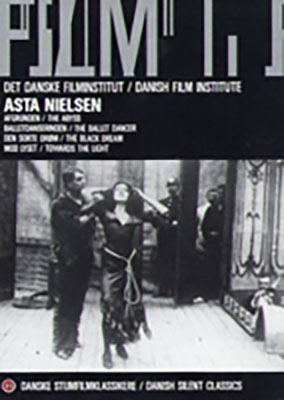 Danish Film Institute
2005? DVD edition

Asta Nielsen (1910-1919), black & white, 191 minutes total, not rated,
including Afgrunden [The Abyss] (1910), black & white, 35 minutes, not rated, Balletdanserinden [The Ballet Dancer] (1911), black & white, 45 minutes, not rated, Det sorte Drøm [The Black Dream] (1911), black & white, 56 minutes, not rated, and Mod lyset [Toward the Light] (1919), black & white, 55 minutes, not rated.

Danish Film Institute, DFIASTAN, no UPC number.
One single-sided?, dual-layered?, Region 0 PAL DVD disc, 1.33:1 aspect ratio image in full-frame 4:3 (720 x 480 pixels) interlaced scan MPEG-2 format, ? Mbps average video bit rate, ? kbps audio bit rate, Dolby Digital 2.0 stereo? sound, Danish and English language intertitles, optional English language subtitles, chapter stops; standard DVD keepcase, DKK 159,00.
Release date: 2005?
Country of origin: Denmark