Reviews of silent film releases on home video.
Copyright © 1999-2018 by Carl Bennett
and the Silent Era Company.
All Rights Reserved.
Smiles and
Spectacles
A Harold Lloyd Treasury
(1917-1947)
Contents: DISC ONE: All Aboard! (1917), Are Crooks Dishonest? (1918), The City Slicker (1918), The Non Stop Kid (1918), Two Gun Gussie (1918), A Sammy in Siberia (1919), Ask Father (1919), Billy Blazes, Esq. (1919), Bumping into Broadway (1919), Don't Shove! (1919), and Captain Kidd's Kids (1919); DISC TWO: Just Neighbors (1919), From Hand to Mouth (1919), His Royal Slyness (1919), An Eastern Westerner (1920), High and Dizzy (1920) and Number, Please? (1920); DISC THREE: Now or Never (1921), Among Those Present (1921), and Grandma's Boy (1922); DISC FOUR: Dogs of War! (1923), and The Milky Way (1936); DISC FIVE: The Sin of Harold Diddlebock (1947), Character Studies (1923), and Hollywood Hist-o-Rama (1961).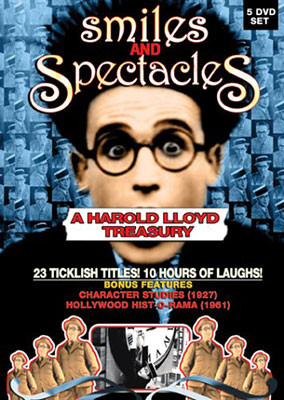 Passport Video
2007 DVD edition

Smiles and Spectacles: A Harold Lloyd Treasury (1917-1947), black & white, 600 minutes total, not rated,
including All Aboard! (1917), black & white, 9 minutes, not rated, Are Crooks Dishonest? (1918), black & white, 14 minutes, not rated, The City Slicker (1918), black & white, 11 minutes, not rated, The Non Stop Kid (1918), black & white, 12 minutes, not rated, Two Gun Gussie (1918), black & white, 11 minutes, not rated, Ask Father (1919), black & white, 13 minutes, not rated, Billy Blazes, Esq. (1919), black & white, 12 minutes, not rated, Bumping into Broadway (1919), black & white, 25 minutes, not rated, Captain Kidd's Kids (1919), black & white, 22 minutes, not rated, Don't Shove! (1919), black & white, 9 minutes, not rated, From Hand to Mouth (1919), black & white, 20 minutes, not rated, His Royal Slyness (1919), black & white, 25 minutes, not rated, Just Neighbors (1919), black & white, 13 minutes, not rated, A Sammy in Siberia (1919), black & white, 7 minutes, not rated, An Eastern Westerner (1920), black & white, 24 minutes, not rated, High and Dizzy (1920), black & white, 25 minutes, not rated, Number, Please? (1920), black & white, 23 minutes, not rated, Among Those Present (1921), black & white, 39 minutes, not rated, Now or Never (1921), black & white, 35 minutes, not rated, Grandma's Boy (1922), black & white, 61 minutes, not rated, Dogs of War! (1923), black & white, 26 minutes, not rated, Character Studies (1923), color-toned black & white, 10 minutes, not rated, The Milky Way (1936), black & white, 88 minutes, not rated, and The Sin of Harold Diddlebock (1947), black & white, 89 minutes, not rated.

Passport Video, DVD-5160, UPC 0-25493-51609-8.
Five single-sided, single-layered, Region 0 NTSC DVD discs, 1.33:1 aspect ratio image in full-frame and windowboxed 4:3 (720 x 480 pixels) interlaced scan MPEG-2 format, ? Mbps average video bit rate, ? kbps audio bit rate, Dolby Digital 2.0 mono sound, English language intertitles, no foreign language subtitles, chapter stops; five-disc DVD keepcase, $19.98.
Release date: 13 February 2007.
Country of origin: USA