Reviews of silent film releases on home video.
Copyright © 1999-2018 by Carl Bennett
and the Silent Era Company.
All Rights Reserved.
Felix the Cat
(1924-1936)
Contents: Felix Follows the Swallows (1924), Felix Goes West (1924), Felix Gets His Fill (1925), One Good Turn (1929), April Maze (1930), Forty Winks (1930), Oceantics (1930), Astronomoeus (1936), Bold King Cole (1936), The Goose That Laid the Golden Egg (1936), and Neptune Nonsense (1936).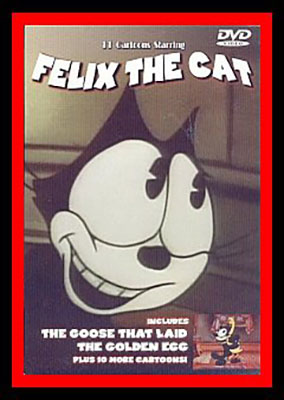 PC Treasures
2006 DVD edition

Felix the Cat (1924-1936), black & white, 80 minutes total, not rated,
including Felix Follows the Swallows (1924), black & white, ? minutes, not rated, Felix Goes West (1924), black & white, ? minutes, not rated, Felix Gets His Fill (1924), black & white, ? minutes, not rated, One Good Turn (1929), black & white, ? minutes, not rated, April Maze (1930), black & white, ? minutes, not rated, Forty Winks (1930), black & white, ? minutes, not rated, Oceantics (1930), black & white, ? minutes, not rated, Astronomoeus (1936), black & white, ? minutes, not rated, Bold King Cole (1936), black & white, ? minutes, not rated, The Goose That Laid the Golden Egg (1936), black & white, ? minutes, not rated, and Neptune Nonsense (1936), black & white, ? minutes, not rated.

PC Treasures, unknown catalog number, no UPC number.
One single-sided, single-layered, Region 0 NTSC DVD disc, 1.33:1 aspect ratio image in full-frame 4:3 (720 x 480 pixels) interlaced scan MPEG-2 format, ? Mbps average video bit rate, ? kbps audio bit rate, Dolby Digital 2.0 mono sound, English language intertitles, no foreign language subtitles, chapter stops; cardboard box, unknown suggested retail price.
Release date: 17 July 2006.
Country of origin: USA