Reviews of silent film releases on home video.
Copyright © 1999-2018 by Carl Bennett
and the Silent Era Company.
All Rights Reserved.
Mad Love
The Films of Evgeni Bauer
(1913-1917)
Contents: Twilight of a Woman's Soul (1913), After Death (1915) and The Dying Swan (1917).
A former set designer, Russian film director Evgenii Bauer exhibited an extraordinarily innovative concept, for his time, of cinematic composition.
As is apparent from the films in this collection, Bauer rarely placed the camera at a right angle to his settings, creating a dynamic visual space which was constructed in light and shadow in conjunction with often elaborate set decorations to create a compelling visual tapestry. Bauer's shots were often deep shots, where actors and settings were layered in planes to create a sense of reality of perception — depth — within the normally constrictive and two-dimensional window of film. The surprising realism of such composition sets Bauer's work apart from many of his film contemporaries.
And at a time when world cinema was just discovering camera mobility, Bauer often directed his camera to track in and out of shots to change the framing of his story and to imply certain emotional contexts. Visual technique is often balanced with his actors' performances, with moments where the balance is deliberately thrown out to emphasize one aspect or the other.
In Bauer's earliest surviving film, Twilight of a Woman's Soul (1913), a bored society woman finds some spark in charity work until she is raped by one of the poor and cynical recipients of her compassion. Some time later when, troubled by conscience, she tells her new husband of her past and he cannot accept the thought of it — a la Tess of the D'Urbervilles — and abandons her.
After Death (1915) is adapted from a story by Ivan Turgenev of a withdrawn and intellectual man who is coaxed into society, where he meets a striking woman who comes to dominate his dreams and thoughts after she unsuccessfully professes her love for him and ultimately commits suicide. The film features an amazing reverse tracking shot through a society event, which pulls the main character deeper into an unwanted situation toward his destiny.
In The Dying Swan (1917), a morose and struggling young artist becomes obsessed with capturing the sad image of a mute ballerina in his painting. When her despairing countenance is changed by the return of a lost love, the artist strangles her to achieve the lifeless effect of the dying swan he must have from his unfortunate model.
Bauer died during the production of his film The King of Paris (1917), from complications of pneumonia after breaking his leg. In his brief four-year career, Bauer appears to have been intent on expanding the possibilities of cinema storytelling. And while he was visually innovative in comparison to many others, Bauer did not fail to give his prerevolutionary Russian audiences the predictably tragic stories they expected of their national cinema. — Carl Bennett
The Milestone Collection
2003 DVD edition

Mad Love: The Films of Evgeni Bauer (1913-1917), black & white and color-toned black & white, 144 minutes total, not rated,
including Twilight of a Woman's Soul (1913), black & white, 48 minutes, not rated, After Death (1915), black & white, ? minutes, not rated, and The Dying Swan (1917), black & white, ? minutes, not rated.

Milestone Film & Video, distributed by Image Entertainment,
ID1983MLSDVD, UPC 0-14381-19832-4.
One single-sided, dual-layered, Region 1 NTSC DVD disc, 1.33:1 aspect ratio image in windowboxed 4:3 (720 x 480 pixels) interlaced scan MPEG-2 format, 5.5 Mbps average video bit rate, 224 kbps audio bit rate, Dolby Digital 2.0 mono sound, Russian language intertitles, English language subtitles, chapter stops; standard DVD keepcase, $29.99.
Release date: 9 December 2003.
Country of origin: USA

Ratings (1-10): video: 8 / audio: 9 / additional content: 8 / overall: 8.
The three films in this DVD collection have been mastered from excellent 35mm materials, which are likely preservation positives. While the prints have many of the usual flaws of films their age — emulsion damage, speckling, etc. — the video transfers feature a broad range of greytones and excellent image detail, with generous and slightly windowboxed framing. All of the important image and intertitle information will be visible on all television monitors. The Russian intertitles of the source prints themselves have been left intact, and English language subtitle translations (which are part of the video masters and cannot be turned off) have been provided. The print of The Dying Swan shows moments of substantial emulsion decomposition in the middle of the film. The disc's picture shows very few signs of video compression and approaches the high video image quality of Criterion-produced discs.
The original program was produced by the British Film Institute in 2002, and features new small ensemble music scores by Laura Rossi, Nicholas Brown and Joby Talbot. The music is surprisingly cohesive (being the work of three different composers) over the course of the films, with its like-kind acoustic instrumentation of strings and piano and faithfulness to the emotional tone of the stories. The music is well recorded and is presented in stereo.
The supplemental features include a 37-minute visual essay by Yuri Tsivian, in which he calls attention to some of Bauer's extraordinary framing, direction, lighting and setting compositions in the three films. Also included is a stills gallery of Russian players and Bauer films.
For its high-quality presentation of three exceptional films, previously unknown to many enthusiasts in America, we highly recommend this DVD collection.
USA: Click the logomark to purchase this Region 1 NTSC DVD edition from Amazon.com. Your purchase supports the Silent Era website.
Canada: Click the logomark to purchase this Region 1 NTSC DVD edition from Amazon.ca. Your purchase supports the Silent Era website.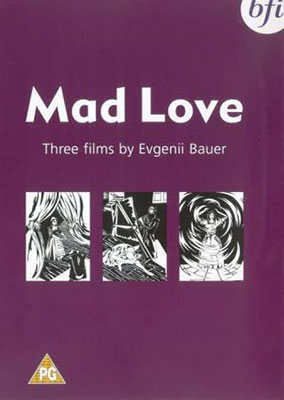 BFI Video Publishing
2002 DVD edition

Mad Love: Three Films by Evgenii Bauer (1913-1917), black & white and color-toned black & white, 182 minutes total, BBFC Classification PG,
including Twilight of a Woman's Soul (1913), black & white, ? minutes, not rated, After Death (1915), black & white, ? minutes, not rated, and The Dying Swan (1917), black & white, ? minutes, not rated.

BFI Video Publishing, BFIVD 515, unknown UPC number.
One single-sided, dual-layered, Region 2 NTSC DVD disc, 1.33:1 aspect ratio image in full-frame 4:3 (720 x 480 pixels) interlaced scan MPEG-2 format, ? Mbps average video bit rate, ? kbps audio bit rate, Dolby Digital 2.0 mono sound, Russian language intertitles, optional English language subtitles, chapter stops; standard DVD keepcase, £19.99.
Release date: 24 June 2002.
Country of origin: England