Reviews of silent film releases on home video.
Copyright © 1999-2017 by Carl Bennett
and the Silent Era Company.
All Rights Reserved.
Children of Eve
(1915)
This late Edison social drama, Children of Eve (1915), addresses themes of moral responsibility and redemption while taking a quick whack at child labor practices of the early 20th century.
Modestly appointed Henry Madison (Robert Conness) finds himself in love with a fallen woman, who chooses to leave him to save his promising future. She births his baby but soon dies, leaving the child to be raised by the impoverished neighborhood.
Mamie McGuire (Viola Dana) grows up in the bowery and learns to lead a life of cons and theft. Meanwhile, Henry Madison has become a successful but callous capitalist. His nephew Bert Madison (Robert Walker), whom Henry has raised from a young boy, mounts campaign to improve the conditions of child laborers and tackle other social problems.
On a chance meeting, Bert determines to be a moral center for would-be thief Mamie. Bert's haranguing draws out a side of Mamie she has not experienced before. Wracked with guilt over leading a life she knows is worthless, Mamie decides to straighten out her life and help others in need. When her former cohort Bernie the Gyp kills a policeman, Mamie shuns him.
On Bert's suggestion, Mamie goes undercover to investigate factory conditions for young workers. Meanwhile, a disease has taken hold of Bert. Sneaking into the Madison home, Mamie discovers that Bert loves her but she is convinced by his uncle Henry to stay out of their lives. When Mamie is tempted to return to her former ways, the image of Bert does his Billy Sunday best to show her the narrow path.
As could be predicted, Mamie ends up investigating the Madison canning business where young girls are exploited for cheap labor. When a fire breaks out at the factory, Mamie is trapped inside behind a fire door. She is rescued by a fireman, but a number of the girls lose their lives while Madison looks on.
Overcome by smoke, Mamie is bed-ridden when Henry Madison visits her bowery apartment. With the outlook for her life bleak, Mamie asks to see Bert one last time. It is now that Henry sees the photograph of Mamie's mother and realizes that she is his daughter. Filled with joy at the discovery, Madison pleads for the means to save her life but is given heart-wrenching news. The arrival of Bert only gives Mamie the strength to kiss him one last time.
The production takes a fairly pedestrian saunter through the maze of early 20th century social issues. Knowing the relationships of the main characters, and knowing the inclinations of the scenario writers of the time, there are no plot surprises in the film. The end is known to the audience early, and the film is little more than a routine observation of a seemingly well-established melodrammer. Yet, despite that, it is pleasant to view the early work of star Viola Dana.
Indicative of the Edison studio's standing in the motion picture industry of 1915, some of the film's sets are poorly painted flats meant to indicate ghetto hallways. The lack of attention to such details is telling of the film's low-budget production values. Another indicator is the film's cinematography that alternates from crystal-sharp images to a slight blurriness that originates in either the camera exposures or in some substandard print-making processes.
Positioning themselves as a leading producer of social dramas, the Edison studio actually hastened their own demise with their morality plays that produced a smaller box office return than the romances, comedies, big-star vehicles and action pictures of other, more successful studios. — Carl Bennett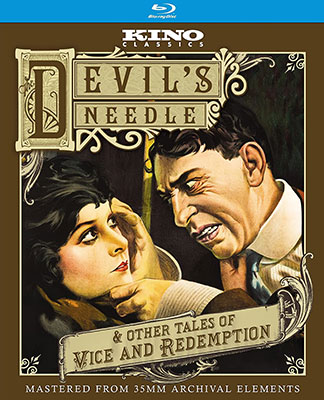 Kino Classics
2012 Blu-ray Disc edition

The Devil's Needle and Other Tales of Vice and Redemption (1913-1916), black & white, 194 minutes total, not rated,
including Children of Eve (1915), black & white, 73 minutes, not rated.

Kino Lorber, K994, UPC 7-38329-09942-8.
Pillarboxed 16:9 AVCHD MPEG-4 format, one single-sided Blu-ray Disc, Region 0, ? Mbps average video bit rate, ? kbps audio bit rate, Dolby Digital 2.0 stereo sound, English language intertitles, no foreign language subtitles, chapter stops, standard BD keepcase in cardboard slipcase, $39.95.
Release date: 3 July 2012.
Country of origin: USA

Ratings (1-10): video: 8 / audio: 8 / additional content: 8 / overall: 8.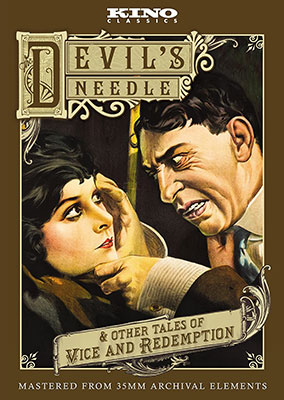 Kino Classics
2012 DVD edition

The Devil's Needle and Other Tales of Vice and Redemption (1913-1916), black & white, 194 minutes total, not rated,
including Children of Eve (1915), black & white, 73 minutes, not rated.

Kino Lorber, K994, UPC 7-38329-09942-8.
Full-frame 4:3 NTSC, two single-sided, dual-layered DVD discs, Region 0, ? Mbps average video bit rate, ? kbps audio bit rate, Dolby Digital 2.0 stereo sound, English language intertitles, no foreign language subtitles, chapter stops, two-disc standard DVD keepcase, $39.95.
Release date: 3 July 2012.
Country of origin: USA