People active in the silent era and people who keep the silent era alive.
Copyright © 1999-2018 by Carl Bennett and the Silent Era Company.
All Rights Reserved.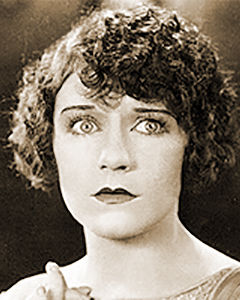 Photograph: Silent Era image collection.
Viola Dana
(same as Viola Flugrath)


Born 26 June 1897 in Brooklyn, New York, USA, as Virginia Flugrath.
Died 3 July 1987 in Woodland Hills, Los Angeles, California, USA.
Daughter of printer Emil Flugrath and Mary Dubois.
Sister of actresses Edna Flugrath and Shirley Mason.
Married director John H. Collins, 1915; until John's death, 23 October 1918.
Married actor Maurice 'Lefty' Flynn, June 1925; divorced, February 1929.
Married professional golfer James Wilfred Stevenson Thomson, 1930; divorced, March 1945.
Viola Dana began acting at the age of three. Her first film appearance was in Edison's A Christmas Carol (1910) at age 13. Her next films for the company would be in 1912 and continuing in 1914, during which time she met future husband, director John H. Collins. They soon were a creative team and made a number of feature films together for Edison (1915-1916), the original Columbia Pictures Corporation (1916-1917), Apollo Pictures (1917), Rolfe Photoplays, Incorporated (1917) and Metro Pictures Corporation (1917-1918). Late in 1918, while working on Satan, Junior, John contracted Spanish influenza and succombed in a New York hotel room while Viola was in California. Their final films together continued to be released into 1919.
Viola pressed on in her grief continuing her contract work for Metro with other directors. In 1920, Viola began seeing aviation stuntman Ormer Locklear intimately even though he was married at the time. She was present for the shooting of a nighttime airplane stunt for the film The Skywayman (1920) during which a tragic accident took Locklear's life. Perhaps desiring some stability after two lovers were taken from her, Viola continued working with Metro and its successor company, Metro-Goldwyn Pictures Corporation, through 1924.
At the conclusion of her Metro contract, Dana worked for Famous Players-Lasky Corporation (1924-1925), Metro-Goldwyn-Mayer Pictures Corporation (1925), First National Pictures, Incorporation (1925-1926), Marshall Neilan Productions (1926), Universal Pictures Corporation (1926), Robertson-Cole Pictures Corporation (1926-1927), the succeeding Columbia Pictures Corporation (1928), Excellent Pictures (1929), Trem Carr Pictures (1929) and The Vitaphone Corporation (1929). With the number of film offers declining and the producers getting smaller, Viola Dana retired from motion pictures after her final film, a sound short, in 1933.
Her marriage to pro golfer Jimmy Thomson lasted for 15 years, but it would also be Viola's last marriage. To occupy her free time, Dana volunteered at the Motion Picture & Television Country House and Hospital. Viola Dana's acting swansongs were a couple of television appearances in the 1950s and 1960s. From 1979, Viola spent her final days at the Motion Picture & Television Country House and Hospital, where she passed away in 1987.
References: Website-IMDb; Website-Wikipedia.