Reviews of silent film releases on home video.
Copyright © 1999-2018 by Carl Bennett
and the Silent Era Company.
All Rights Reserved.
Murnau, Borzage
and Fox
(1925-1932)
Contents: Lazybones (1925), Sunrise (1927) [Movietone sound and European silent versions], 7th Heaven (1927), Street Angel (1928), The River (1928) [surviving footage], Lucky Star (1929), They Had to See Paris (1929), City Girl (1929), Song o' My Heart (1930), Liliom (1930), Bad Girl (1931), After Tomorrow (1932) and Young America (1932).
This massive boxset collection of films directed by F.W. Murnau and Frank Borzage for Fox Film Corporation includes twelve DVD discs stored in die-cut pockets and two full-size books. Impressive and heavy, the set is also an envy-invoking ego boost to own.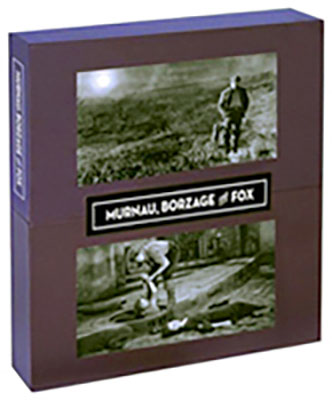 20th Century Fox Home Entertainment
2008 DVD edition

Murnau, Borzage and Fox (1925-1932), black & white and color, ? minutes total, not rated,
including Lazybones (1925), black & white, 86 minutes, not rated, Sunrise (1927) [silent version with Movietone soundtrack], black & white, 94 minutes, not rated, Sunrise (1927) [European silent version], black & white, 79 minutes, not rated, 7th Heaven (1927), black & white, 119 minutes, not rated, Street Angel (1928), black & white, 101 minutes, not rated, The River (1928), black & white, 55 minutes, not rated, City Girl (1929), black & white, 88 minutes, not rated, Lucky Star (1929), black & white, 99 minutes, not rated, They Had to See Paris (1929), black & white, 83 minutes, not rated, Song o' My Heart (1930) [full-sound version], black & white, 86 minutes, not rated, Song o' My Heart (1930) [silent version with Movietone soundtrack], black & white, 90 minutes, not rated, Liliom (1930), black & white, 94 minutes, not rated, Bad Girl (1931), black & white, 88 minutes, not rated, After Tomorrow (1932), black & white, 81 minutes, not rated, Young America (1932), black & white, 70 minutes, not rated, and Murnau, Borzage and Fox (2008), color and black & white, 105 minutes, not rated.

20th Century Fox Home Entertainment, 35622, UPC 0-24543-56220-7.
Eight single-sided, single-layered, Region 1 NTSC DVD discs, 1.33:1 and 1.20:1 aspect ratios in full-frame 4:3 (720 x 480 pixels) interlaced scan MPEG-2 format, ? Mbps average video bit rate, ? kbps audio bit rate, Dolby Digital 5.1 surround sound and Dolby Digital 2.0 stereo and mono sound, English language intertitles, French, Spanish and English (sound films only) language subtitles, chapter stops; one single-sided, dual-layered, Region 1 NTSC DVD disc, 1.20:1 aspect ratio image in full-frame 4:3 (720 x 480 pixels) interlaced scan MPEG-2 format, ? Mbps average video bit rate, ? kbps audio bit rate, Dolby Digital 5.1 surround sound and Dolby Digital 2.0 stereo and mono sound, English language intertitles, French, Spanish and English (sound films only) language subtitles, chapter stops; and three dual-sided, single-layered, Region 1 NTSC DVD discs, 1.20:1 aspect ratio image in full-frame 4:3 (720 x 480 pixels) interlaced scan MPEG-2 format, ? Mbps average video bit rate, ? kbps audio bit rate, Dolby Digital 5.1 surround sound and Dolby Digital 2.0 stereo and mono sound, English language intertitles, French, Spanish and English (sound films only) language subtitles, chapter stops; clothbound binder with disc pockets in clothbound box, $239.98.
Release date: 9 December 2008.
Country of origin: USA