People active in the silent era and people who keep the silent era alive.
Copyright © 1999-2018 by Carl Bennett and the Silent Era Company.
All Rights Reserved.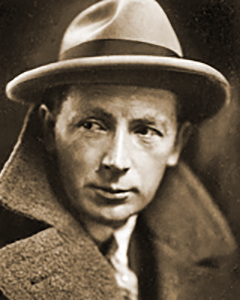 Photograph: Silent Era image collection.
F.W. Murnau
Born 28 December 1888 in Bielefeld, Germany, as Friedrich Wilhelm Plumpe.
Died 11 March 1931 near Carmel, California, USA, of injuries sustained in an auto accident.
F.W. Murnau's contribution to cinema cannot be overstated. In a film career that lasted little more than a decade, Murnau performed early yeoman service to evolve quickly into an intelligent and groundbreaking cinema master. Among his best-known and most-influential films are Nosferatu (1922), Phantom (1922), Der letzte Mann (1924), Tartüff (1926), Faust (1926), Sunrise (1927), Our Daily Bread [City Girl] (1929) and Tabu (1931).