Reviews of silent film releases on home video.
Copyright © 1999-2018 by Carl Bennett
and the Silent Era Company.
All Rights Reserved.
The Harold Lloyd
Comedy Collection
(1919-1936)
Contents: Ask Father (1919), Billy Blazes, Esq. (1919), Bumping into Broadway (1919), From Hand to Mouth (1919), Haunted Spooks (1920), An Eastern Westerner (1920), High and Dizzy (1920), Get Out and Get Under (1920), Number, Please? (1920), Now or Never (1921), Among Those Present (1921), I Do (1921), Never Weaken (1921), A Sailor-Made Man (1921), Grandma's Boy (1922), Doctor Jack (1922), Safety Last (1923), Why Worry? (1923), Girl Shy (1924), Hot Water (1924), The Freshman (1925), For Heaven's Sake (1926), The Kid Brother (1927), Speedy (1928), Feet First (1930), Movie Crazy (1932), The Cat's-Paw (1934) and The Milky Way (1936).
Regretably out-of-print and rapidly flying off retailers' backstock shelves, this boxset of high-quality editions of Harold Lloyd films has been mastered from source prints that range from very-good to excellent. The boxset contains a fourth bonus disc that is not available separately.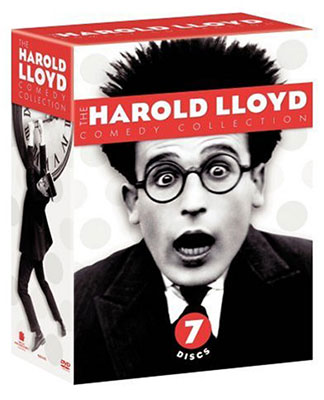 New Line Home Entertainment
2005 DVD edition

The Harold Lloyd Comedy Collection (1919-1936), black & white, ? minutes total, not rated,
including Ask Father (1919), black & white, 13 minutes, not rated, Billy Blazes, Esq. (1919), black & white, 13 minutes, not rated, Bumping Into Broadway (1919), black & white, 26 minutes, not rated, From Hand to Mouth (1919), black & white, 22 minutes, not rated, Haunted Spooks (1920), black & white, 25 minutes, not rated, An Eastern Westerner (1920), black & white, 24 minutes, not rated, High and Dizzy (1920), black & white, 26 minutes, not rated, Get Out and Get Under (1920), black & white, 25 minutes, not rated, Number, Please? (1920), black & white, 25 minutes, not rated, Now or Never (1921), black & white, 36 minutes, not rated, Among Those Present (1921), black & white, 35 minutes, not rated, I Do (1921), black & white, 25 minutes, not rated, Never Weaken (1921), black & white, 29 minutes, not rated, A Sailor-Made Man (1921), black & white, 47 minutes, not rated, Grandma's Boy (1922), black & white, 26 minutes, not rated, Doctor Jack (1922), black & white, 60 minutes, not rated, Safety Last (1923), color-toned black & white, 73 minutes, not rated, Why Worry? (1923), black & white, 63 minutes, not rated, Girl Shy (1924), color-toned black & white and black & white, 80 minutes, not rated, Hot Water (1924), black & white, 60 minutes, not rated, The Freshman (1925), black & white, 76 minutes, not rated, For Heaven's Sake (1926), black & white, 58 minutes, not rated, The Kid Brother (1927), black & white, 82 minutes, not rated, Speedy (1928), black & white, 86 minutes, not rated, Feet First (1930), black & white, 91 minutes, not rated, Movie Crazy (1932), black & white, 96 minutes, not rated, The Cat's-Paw (1934), black & white, 102 minutes, not rated, and The Milky Way (1936), black & white, 88 minutes, not rated.

New Line Home Entertainment, LW.2.N8445.S,
UPC 7-94043-84452-2, ISBN 0-7806-5288-6.
Four single-sided, dual-layered, Region 1 NTSC DVD discs, 1.33:1 aspect ratio image in full-frame 4:3 (720 x 480 pixels) interlaced scan MPEG-2 format, ? Mbps average video bit rate, ? kbps audio bit rate, Dolby Digital 2.0 stereo sound and Dolby Digital 2.0 mono sound, English language intertitles, English and Spanish language subtitles, closed captions, chapter stops; and three dual-sided, dual-layered (side A)/single-layered (side B), Region 1 NTSC DVD discs, 1.33:1 aspect ratio image in full-frame 4:3 (720 x 480 pixels) interlaced scan MPEG-2 format, ? Mbps average video bit rate, ? kbps audio bit rate, Dolby Digital 2.0 stereo sound and Dolby Digital 2.0 mono sound, English language intertitles, English and Spanish language subtitles, closed captions, chapter stops; four standard DVD keepcases in cardboard slipcase, $89.95.
Release date: 15 November 2005.
Country of origin: USA