People active in the silent era and people who keep the silent era alive.
Copyright © 1999-2018 by Carl Bennett and the Silent Era Company.
All Rights Reserved.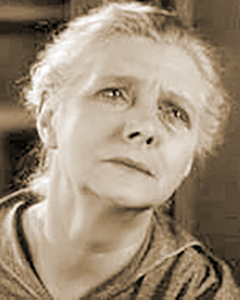 Photograph: Silent Era image collection.
Edith Yorke
(same as Edithe Yorke)
Born 23 December 1867 in Croyden, England, United Kingdom, as Edith Murgatroyd.
Died 28 July 1934 in Southgate, California, USA.
Married Robert Byard, 1894; son, Robert Frank Byard; daughter, actress Freda Byard.
Edith Yorke had immigrated from England to Canada, then to the USA and settled in Pierce County, Washington, before her motion picture debut in 1919. Her last substantial film role was as Mrs. Tustine in F.W. Murnau's Our Daily Bread (City Girl) (1929), with her last uncredited role in Luxury Liner (1933).
References: Website-IMDb.