People active in the silent era and people who keep the silent era alive.
Copyright © 1999-2018 by Carl Bennett and the Silent Era Company.
All Rights Reserved.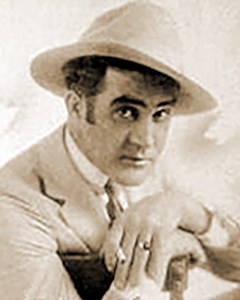 Photograph: Silent Era image collection.
Francis Ford
Born 14 August 1881 in Portland, Maine, USA, as Francis Thomas Feeney.
Died 5 September 1953 in Los Angeles, California, USA.
Brother of director John Ford.
Married writer and actress Elsie Van Name, circa 1900; son, actor and director Philip [?] Feeney or Ford? (Phil Ford), born 16 October 1900; son, William [?] Feeney or Ford?; [?] divorced?
Married Mary Armstrong, 1935; until Francis' death, 5 September 1953.
Francis Ford began his film career in 1909. By 1912, he was directing (under the tutelage of Thomas H. Ince) and starring in short films for New York Motion Picture Company. Ford maintained a successful film production career with costar Grace Cunard in The Universal Film Manufacturing Company, Incorporated, writing, directing and starring in serials, crime dramas and westerns. Along the way, Ford managed to portray George Washington, Abraham Lincoln, General George Armstrong Custer, and Sherlock Holmes.
References: Website-IMDb.