Reviews of silent film releases on home video.
Copyright © 1999-2018 by Carl Bennett
and the Silent Era Company.
All Rights Reserved.
The
Wishing Ring
(1914)
This comedy-drama, directed by Maurice Tourneur, features Vivian Martin, Alec B. Francis, Chester Barnett, Simeon Wiltsie, Walter Morton and Johnny Hines.
Image Entertainment
2003 DVD edition

Before Hollywood, There Was Fort Lee, N.J. (1964), color and black & white, 40 minutes, not rated,
with The Wishing Ring (1914), color-toned black & white, 60 minutes, not rated.

Film Preservation Associates, distributed by Image Entertainment,
ID1855DSDVD, UPC 0-14381-18552-2.
One single-sided, dual-layered, Region 0 NTSC DVD disc, 1.33:1 aspect ratio image in windowboxed 4:3 (720 x 480 pixels) interlaced scan MPEG-2 format, ? Mbps average video bit rate, ? kbps audio bit rate, Dolby Digital 2.0 mono sound, English language intertitles, no foreign language subtitles, 8 chapter stops; standard DVD keepcase, $24.99.
Release date: 20 May 2003.
Country of origin: USA

Ratings (1-10): video: 7 / audio: 8 / additional content: 7 / overall: 7.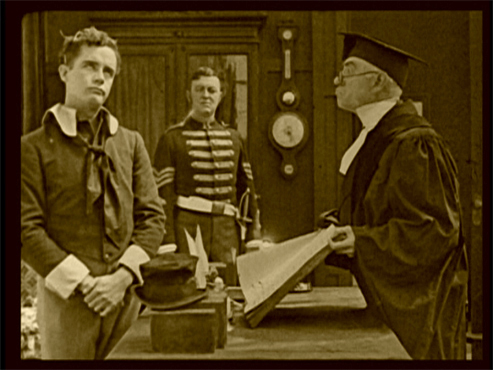 This DVD edition has been mastered from a very-good source print, which is likely the known 35mm preservation positive that was optically enlarged from a surviving 16mm reduction print of a British release version of the film. While the original source material is a little worn, with speckling, dust and incidental scratches, and sections of overly-light tones, the print is a pleasant viewing experience.
The natural-speed video transfer is reasonably detailed, evenly capturing the colortone range and image detail of the surviving material. The restrained highlights of the transfer, keeping them on the toned side of completely white, holds what image information still remains in the 16mm print. While the print material is not ideal, the disc still renders a reasonably good-looking picture on high-definition systems that upconverts a standard interlaced signal to a progressive-scan HD signal.
The film is accompanied by a music score compiled by Rodney Sauer and performed on piano, violin, oboe and cello by the Mont Alto Motion Picture Orchestra. Very entertaining.
USA: Click the logomark to purchase this Region 0 NTSC DVD edition from Amazon.com. Your purchase supports the Silent Era website.
Canada: Click the logomark to purchase this Region 0 NTSC DVD edition from Amazon.ca. Your purchase supports the Silent Era website.