This dual-disc edition has been mastered from a 2K high-definition video scan of 35mm nitrate print materials held by the Library of Congress. We are extremely fortunate in that this sole surviving complete print is of the original 12-reel roadshow version of the film. Additional material from Reel 3 was sourced from a print held by the Academy Film Archive (Michael Yakaitis collection).
The source material does have a usual examples of light dust, speckling, scrapes, the occasional brief vertical scratch, processing flaws and a fine patina of emulsion scuffing. Some mild image instability has been allowed to remain in the presentation. That being said, overall, the source material is in excellent condition and is a pleasure to view.
The picture is finely-detailed and very filmlike in its reproduction of the broad range of greytones in the source material. Admirably, the 2K scan avoids replication of the picture in the swarm of hard black dots that are sometimes seen in the high-definition transfers of other silent and classic era films found on recent Blu-ray Discs. Utilizing instructions found in the source material, color-tinting and color-toning has digitally added to the picture, with an approximation of the original hand-coloring added on sections in the final reel. This is a fine example of how a classic film should be presented on Blu-ray Disc.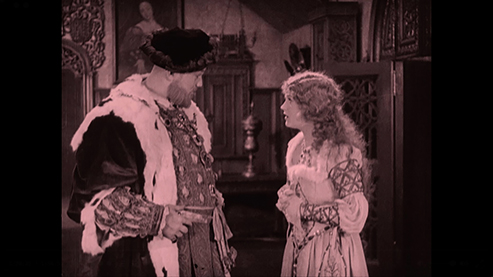 The DVD is presented in standard full-frame format. While not as sharp as the Blu-ray Disc presentation, this DVD is still detailed and quite filmlike in its picture quality.
The film is presented with a newly-composed music score performed on virtual theater pipe organ by Ben Model. As always, we are pleased with the authentic-sounding emulation of classic theater organ tones and voices.
Where there is no supplementary material on this disc, this edition does feature a 16-page insert booklet with film notes by Lara Gabrielle Fowler.
Beyond a doubt, this is our recommended home video edition of the film. Kickstarter campaign backers received their copies late in June 2017; the dual-disc edition will be available beginning 25 July 2017 through Amazon.
| | |
| --- | --- |
| USA: Click logomark to purchase this Region 0 BD-R / NTSC DVD-R edition from Amazon.com. Your purchase supports Silent Era. | |