Reviews of silent film releases on home video.
Copyright © 1999-2018 by Carl Bennett
and the Silent Era Company.
All Rights Reserved.

West Point
(1928)

Brash, cocky, 'wisecracker' Bryce Wayne (William Haines) arrives at West Point confident that he is just what's needed to shake up the venerable academy. "From now on West Point is going to amount to something!" he declares to his reflection in the mirror. Before long he's attracted the attention of a beautiful local girl, Betty Channing (Joan Crawford) and the hero-worship of a fellow plebe 'Tex' McNeil (William Bakewell) as well as the scorn of Bob Sperry (Neil Neely) who also covets romance with the charming Betty. It doesn't take long though before Bryce's arrogance starts to strain his relationships with his fellow plebes, but he has an ace up his sleeve: he's a terrific football player! Soon he's leading the team to win after win. However, a shocking incident in the locker room may just derail Bryce's West Point career.

The films William Haines appeared in throughout the late silent era, beginning with Brown of Harvard (1926) (the film that made him a star) and into the early sound era, were often pretty formulaic: an arrogant, rich boy (or rube) with some athletic talent (football, baseball, polo, racecar driving, rowing, golf) arrives on the scene with a Don Juan complex and proceeds to alienate pretty much everyone, including the leading lady. He performs some act of altruism that we the audience see but the characters in the film do not, things reach a crisis, and ultimately the Haines character realizes the error of his ways and converts to being a nice guy, getting the girl in the process.

West Point is not an exception to this formula. And who would complain? Haines' films made lots and lots of money for Metro-Goldwyn-Mayer. He was one of the top five box office stars for the five consecutive years of 1926-1931. Although West Point is formulaic, it is well produced and had in Edward Sedgwick a very competent director. Part of the appeal of the film is that the company spent five weeks in the summer of 1927 at and around the actual West Point campus filming their photoplay. Filming on location during this time was the exception rather than the rule, and the authenticity of the locations adds immeasurably to the picture.

Haines is fine as Bryce Wayne — this was a character that he'd perfected. Joan Crawford in the third of four films she would make opposite Haines is pretty but is not given much to do. She would hit her movie star stride the next year in Our Dancing Daughters (1928). Also notable in the cast is William Bakewell as 'Tex' McNeil, Bryce's loyal sidekick, who would soon have his most memorable role as Albert in Lewis Milestone's All Quiet on the Western Front (1930). While certainly not a classic film of the era, West Point is a good representation of Haines career, which features an early Joan Crawford performance and is filled with scenes that visually capture West Point at this moment in time. — Karl Holzheimer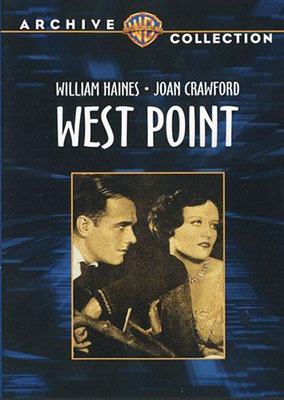 Warner Archive Collection
2009 DVD edition

West Point (1928), black & white, 95 minutes, not rated.

Warner Home Video, no catalog number, UPC 8-83316-19798-1.
One single-sided, single-layered, Region 0 NTSC DVD-R disc, 1.33:1 aspect ratio image in full-frame 4:3 (720 x 480 pixels) interlaced scan MPEG-2 format, ? Mbps average video bit rate, ? kbps audio bit rate, Dolby Digital 2.0 stereo sound, English language intertitles, no foreign language subtitles, chapter stops; standard DVD keepcase, $19.95.
Release date: 18 August 2009.
Country of origin: USA

Ratings (1-10): video: 8 / audio: 8 / additional content: 0 / overall: 8.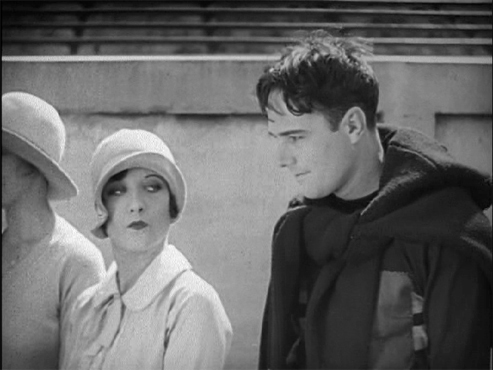 This Warner Archive Collection DVD-R edition has been mastered from a very-good to excellent but worn 35mm print that features a broad range of greytones and very-good image detail, but in some of the darker scenes faces flare and highlight details are lost. There is some evidence of print decomposition, but it is fleeting and is not a significant distraction, and from time to time there is some frame movement from sprocket misalignment due to print shrinkage. Some dust has been allowed to remain in the full-frame, natural-speed video transfer, that was originally prepared for broadcast on the Turner Classic Movies cable television network.
A music score composed by David Davidson in 2002 accompanies the film. A small orchestra performs the score, which is appropriate to the film and is well synchronized to the action even supplying sound cues when appropriate.
There is no supplementary material included on this on-demand DVD-R disc. We recommend this edition.
USA: Click the logomark to purchase this Region 0 NTSC DVD-R edition from Amazon.com. Your purchase supports the Silent Era website.
This Region 0 NTSC DVD-R edition is available directly from . . .