Reviews of silent film releases on home video.
Copyright © 1999-2018 by Carl Bennett
and the Silent Era Company.
All Rights Reserved.
Victory
(1919)
Director Maurice Tourneur's adaptation of a Joseph Conrad novel of criminal intrigue in the Dutch East Indies was thought to be a lost film for many years. The film has, however, survived in 35mm print materials — to the delight of Lon Chaney fans.
Reclusive Axel Heyst (Jack Holt) lives on his isolated island, in spite of the contempt of hotel owner Schomberg (Wallace Beery) on a nearby island. Heyst's visit there draws him into a tangled skein that includes a sad woman musician (Seena Owen), a manipulative and opportunistic criminal (Ben Deely), and his two henchmen (Chaney and Bull Montana).
Not a major film for Tourneur, with its odd and unengaging story flow and abrupt resolution, but rather an opportunity for Chaney to steal the film as the smarmy Ricardo. The insignificant hotel section of the film presents only an excuse for Holt and Owen to return to his lonely island surreptiously, and who knows what the volcano is all about. This kind of material would be later handled far better by Chaney with director Tod Browning. — Carl Bennett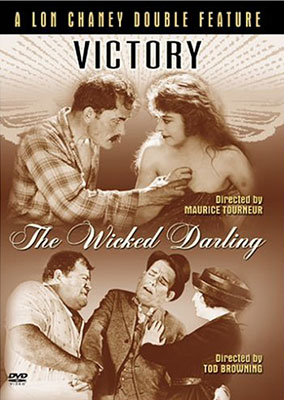 Image Entertainment
2005 DVD edition

Victory (1919), color-toned black & white, 62 minutes, not rated,
with The Wicked Darling (1919), color-toned black & white, 59 minutes, not rated.

Film Preservation Associates, distributed by Image Entertainment, ID0315DSDVD, UPC 0-14381-03152-2.
One single-sided, dual-layered, Region 0 NTSC DVD disc, 1.33:1 aspect ratio image in full-frame 4:3 (720 x 480 pixels) interlaced scan MPEG-2 format, ? Mbps average video bit rate, ? kbps audio bit rate, Dolby Digital 2.0 stereo sound, English language intertitles, no foreign language subtitles, 7 chapter stops; standard DVD keepcase, $19.99.
Release date: 25 January 2005.
Country of origin: USA

Ratings (1-10): video: 8 / audio: 6 / additional content: 6 / overall: 7.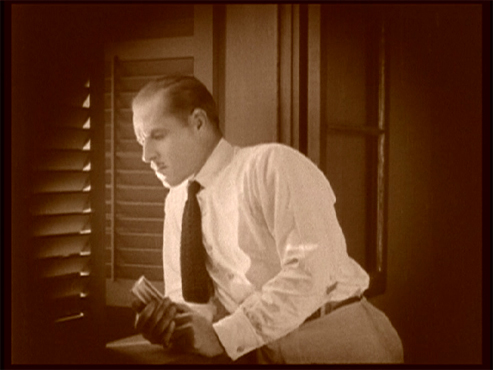 This DVD edition has been mastered from a very-good to excellent 35mm source print (possibly from Lobster Films, France), with an excellent range of colortones, open shadow details and well-maintained highlight details. Present also in the print is the usual amount of speckling, dust, processing flaws, emulsion scrapes, splices and a few slight vertical scratches, with a slight and overall bluriness — readily seen in the intertitles — that may not be as noticeable on standard-resolution systems and it is on HD systems.
The presentation features a music score, and a few sound effects, performed on synthesizers by Eric Beheim.
Liner notes are by author Michael F. Blake. The disc will be an excellent value for the money to Chaney fans.
USA: Click the logomark to purchase this Region 0 NTSC DVD edition from Amazon.com. Your purchase supports the Silent Era website.
Canada: Click the logomark to purchase this Region 0 NTSC DVD edition from Amazon.ca. Your purchase supports the Silent Era website.