Reviews of silent film releases on home video.
Copyright © 1999-2018 by Carl Bennett
and the Silent Era Company.
All Rights Reserved.
Souls for Sale
(1923)
This Hollywood drama from producer Samuel Goldwyn stars Eleanor Boardman, Frank Mayo and Richard Dix, and features cameos by Charles Chaplin, Raymond Griffith, Bessie Love, Marshall Neilan, Anna Q. Nilsson, ZaSu Pitts, Milton Sills, Erich von Stroheim, Blanche Sweet, King Vidor, Kathlyn Williams and Claire Windsor, among many others.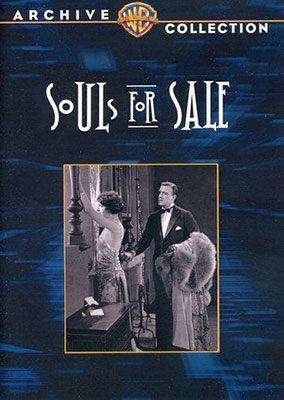 Warner Archive Collection
2009 DVD edition

Souls for Sale (1923), black & white, 89 minutes, not rated.

Warner Home Video, no catalog number, UPC 8-83316-12719-3.
One single-sided, single-layered, Region 0 NTSC DVD-R disc, 1.33:1 aspect ratio image in full-frame 4:3 (720 x 480 pixels) interlaced scan MPEG-2 format, ? Mbps average video bit rate, ? kbps audio bit rate, Dolby Digital 2.0 stereo sound, English language intertitles, no foreign language subtitles, chapter stops; standard DVD keepcase, $19.95.
Release date: 24 March 2009.
Country of origin: USA