Reviews of silent film releases on home video.
Copyright © 1999-2018 by Carl Bennett
and the Silent Era Company.
All Rights Reserved.

She Goes
to War
(1929)

This World War I drama, directed by Henry King, features the beautiful Eleanor Boardman in her sound film debut. Boardman doesn't speak though, as the soundtrack is limited to synchronized music and sound effects, and two songs by Alma Rubens. Al St. John supports as a soldier named Bill for an injection of light comedy.

A woman in a French village (Boardman) is confronted by the horrors of war, and responds by contributing personally to a front-line assault on the enemy.

The camera, as in so many of the early sound films, is static and only moves freely in silent sequences and in silent insert shots to sound segments. The film's early sound film pedigree is also evident in its poorly realized sound effects, explosions in particular. Rubens also sounds as if she is singing from inside a closet.

The film waivers uncertainly between drama and comedy, and never settles comfortably in-between. Despite Henry King's silent era accomplishments, She Goes to War is a creaky entré into sound film production and is, ultimately, an ill-conceived and hokey attempt to tell the "TRUTH" about war. — Carl Bennett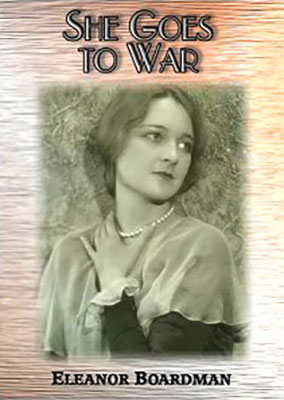 Grapevine Video
2010 DVD edition

She Goes to War (1929), black & white, 50 minutes, not rated.

Grapevine Video, no catalog number, UPC 8-42614-10382-7.
One single-sided, single-layered, Region 0 NTSC DVD-R disc, 1.33:1 aspect ratio image in full-frame 4:3 (720 x 480 pixels) interlaced scan MPEG-2 format, ? Mbps average video bit rate, ? kbps audio bit rate, Dolby Digital 2.0 mono sound, English language intertitles, no foreign language subtitles, 10 chapter stops; standard DVD keepcase, $14.95.
Release date: 12 February 2010.
Country of origin: USA

Ratings (1-10): video: 4 / audio: 4 / additional content: 0 / overall: 4.
This DVD-R edition has been mastered from a good 16mm reduction print, which is soft of image details, and with blasted-out highlights and deep, plugged-up shadows. The print is also missing some footage to splices, and some possible editing, as the film's original running time was more than 80 minutes.
The film is accompanied by the original RCA Photophone soundtrack, which is creaky (those were the times) and sometimes poorly recorded. There is an audio flutter from the 16mm print's soundtrack at times throughout the film.
This disc has not been prepared from the best of materials, but to our knowledge this is the only edition of the film available on DVD home video.
This Region 0 NTSC DVD-R edition is available directly from GRAPEVINE VIDEO.