Reviews of silent film releases on home video.
Copyright © 1999-2018 by Carl Bennett
and the Silent Era Company.
All Rights Reserved.

The
Secret Game
(1917)

The Secret Game (1917) is a five-reel Lasky production directed by William C. de Mille, brother of Cecil B. DeMille. Sessue Hayakawa, best-known for appearing as Colonel Saito in The Bridge on the River Kwai (1957), stars in this World War I melodrama as Japanese agent Nara-Nara (rhymes with 'marinara'), who is cooperating with the U.S. government to discover and foil the plots of German secret service spies in America. The film is laced with the requisite amount of coded letters, hidden microphones, knockout tablets, kidnapping, double agents and golf.

German spies are concentrating on the Los Angeles office of Depot Quartermaster Major Northfield (Jack Holt) to discover information about secret troop transports in the Pacific against Germany. Kitty Little (the lovely Florence Vidor) has been planted in Northfield's office to replace his kidnapped secretary. The German agents discover that Nara-Nara, undercover as an importer of Japanese goods, is suspicious of Northfield and Kitty is sent to 'be friendly' with him to keep an eye on his actions. Northfield is so smitten with Kitty that he proposes marriage. Kitty is so torn with her patriotic duties to her native Germany, her compassion for the kidnapped Miss Loring, her unexpected proposal and her budding friendship with Nara-Nara, she is unsure which pathway to take. Northfield discovers a secret microphone in Nara-Nara's office and overhears a compromising phone conversation of Kitty's taking place in his own office next door. Nara-Nara discovers that his own suspicions of Northfield are perhaps misplaced and that he should be investigating, despite his own budding feelings toward her, Miss Little instead. Nara-Nara decodes a letter of Kitty's with a stolen German code and discovers her secret. Meanwhile, Kitty overhears the arrival of the desired transport orders in a way that Northfield has arranged. Will Kitty be implicated in the German spy ring? Will Nara-Nara capture the true espionage culprits? Will Northfield ever golf again? These and other pressing questions are answered in the film's thrilling conclusion.

The pervasive sentiments of 1917 toward the Germans and Japanese are apparent in the tone of the film's intertitles and in Kitty's immediate withdrawal when Nara-Nara attempts to casually touch her hand. Nara-Nara's later overtures to Kitty have a touch of the lustful Japanese role Hayakawa portrayed in The Cheat (1915) and, I suspect, raised as much of the audience's ire as did the actions of the German spies. — Carl Bennett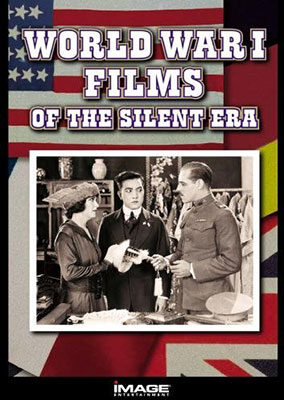 Image Entertainment
2002 DVD edition

World War I Films of the Silent Era (1916-1975), color-toned black & white, black & white and color, ? minutes total, not rated,
including The Secret Game (1917), color-toned black & white, 67 minutes, not rated.

Film Preservation Associates, distributed by Image Entertainment, ID0512DSDVD, UPC 0-14381-05122-3.
One single-sided, dual-layered, Region 0 NTSC DVD disc (reissued on DVD-R disc), 1.33:1 aspect ratio image in full-frame 4:3 (720 x 480 pixels) interlaced scan MPEG-2 format, 6.5 Mbps average video bit rate, 192 kbps audio bit rate, Dolby Digital 2.0 stereo and mono sound, English language intertitles, no foreign language subtitles, chapter stops; standard DVD keepcase, $24.99.
Release date: 22 January 2002.
Country of origin: USA

Ratings (1-10): video: 7 / audio: 6 / additional content: 8 / overall: 7.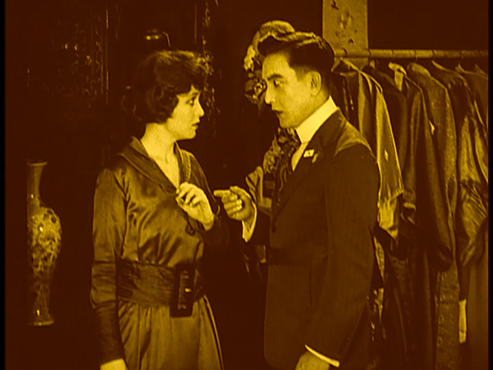 This DVD edition of The Secret Game (1917) has been transferred from a very-good color-toned 35mm print, compromised with light speckling, dust and scratches, and with patches of filmstock decomposition which are at times quite distracting. However, overall the print is visualy very-good and appears to be complete. The print is color-toned in a number of colors.
The musical accompaniment for the silent era films was arranged and performed by Eric Beheim and the Ebell Schmidt (Charles Ogle's character in The Secret Game) Orchestra. While we regret the use of MIDI synthesizers that, in the choice of sound timbre and tone, strike us as out of place with the vintage of the film and skirt on the border of distracting, the music itself is well-chosen and accompanies the films well. The few sound effects cues attempted in the last reel of The Secret Game are out of sync with the action.
For reviews of the other films included on this disc, see our review of the World War I Films of the Silent Era DVD collection.
Altogether, the collection probably represents as much of a cross-section as possible within 167 minutes of the typical war films that were produced in the timeframe covered. However, it would be intriguing to discover that this is only the first in a series of volumes comprised of scarcely-seen documentaries and fiction films on the first World War. We welcome the opportunity here to see another film highlighting the talents of actor Sessue Hayakawa and director William C. de Mille, and to see authentic documentary footage of the war. World War I history buffs will find that this is a 'must-have' collection, silent film collectors will be attracted by the uncommon films it contains. We recommend the collection. The edition has been reissued on DVD-R disc.
USA: Click the logomark to purchase this Region 0 NTSC DVD-R edition from Amazon.com. Your purchase supports the Silent Era website.
Canada: Click the logomark to purchase this Region 0 NTSC DVD-R edition from Amazon.ca. Your purchase supports the Silent Era website.