Reviews of silent film releases on home video.
Copyright © 1999-2018 by Carl Bennett
and the Silent Era Company.
All Rights Reserved.

Nomads of
the North
(1920)

Lon Chaney stars in this production of a James Oliver Curwood northwoods story of murder, lust and escape.

Comely Nanette Roland (Betty Blythe) must be the only woman in backwoods Fort O'God, Canada, considering how she is pursued by Corporal O'Connor of the Royal Northwest Mounted Police (the always-stiff Lewis Stone) and the oily Bucky McDougall (Francis McDonald). But she steadfastly holds out for her fiancé Raoul Challoner (Lon Chaney), who has not emerged from the northwoods for more than a year.

Nanette's dying father, more than two years in debt to the company store, is pressured by McDougall's father and a smarmy priest to force his daughter to marry Bucky. Nanette makes the regretable vow that she will marry him when she knows that Raoul is dead.

Bucky arranges with a whiskey-runner for him to lie to Nanette about Raoul's death. Raoul returns to hear of Nanette's father's death and her wedding to Bucky that is taking place at that very moment. Arriving in the nick of time, the wedding is off, causing ongoing trouble with the McDougall's for the couple and accusations of murder for Raoul.

The couple goes on the lam, but is discovered three years later by Bucky McDougall, and eventually tracked down by O'Connor. A chance forest fire emperils O'Connor, the couple, their baby, their pet bear and dog, and fatally, McDougall.

The film is old-fashioned, even for 1920, with its melodrammer storyline and direction. Working with a weaker director in the person of David Hartford allows Lon Chaney to overact in places, as was his wont from time to time. — Carl Bennett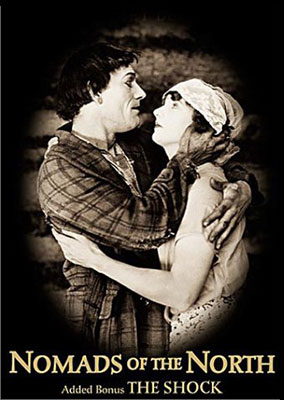 Image Entertainment
2002 DVD edition

Nomads of the North (1920), black & white, 78 minutes, not rated,
with The Shock (1923), color-toned black & white, 69 minutes, not rated.

Film Preservation Associates, distributed by Image Entertainment, ID0318DSDVD, UPC 0-14381-03182-9.
One single-sided, dual-layered, Region 1 NTSC DVD disc, 1.33:1 aspect ratio image in windowboxed 4:3 (720 x 480 pixels) interlaced scan MPEG-2 format, 6.5 Mbps average video bit rate, 224 kbps audio bit rate, Dolby Digital 2.0 stereo sound, English language intertitles, no foreign language subtitles, 18 chapter stops; standard DVD keepcase, $24.99.
Release date: 30 July 2002.
Country of origin: USA

Ratings (1-10): video: 8 / audio: 8 / additional content: 7 / overall: 7.
This DVD edition of Nomads of the North (1920), released in 2002, appears to have been prepared from an assembly of footage predominantly from what appears to be a very-good to excellent 35mm print and a very-good 16mm reduction print to provide the most-complete version of the film possible. The composite print has the usual light speckling and dust, minor emulsion damage and processing flaws. The print is generally quite good, with its broad range of greytones and very-good image detail, and has very few distracting issues. The windowboxed video transfer is very generously framed, allowing all of the surviving picture image (including intertitles) to be seen on all television monitors.
The film is respectably accompanied by Robert Israel on the Fotoplayer, which plays up the film's melodramatic flavor and moments of silliness.
It seems odd to us that in this Lon Chaney double feature Nomads of the North is marketed as the headlining film over its companion The Shock (1923), which is clearly the better film. Nonetheless, we recommend this edition of Nomads of the North for its high print quality, its windowbox presentation, and campy and fun musical accompaniment.
USA: Click the logomark to purchase this Region 1 NTSC DVD edition from Amazon.com. Your purchase supports the Silent Era website.
Canada: Click the logomark to purchase this Region 1 NTSC DVD edition from Amazon.ca. Your purchase supports the Silent Era website.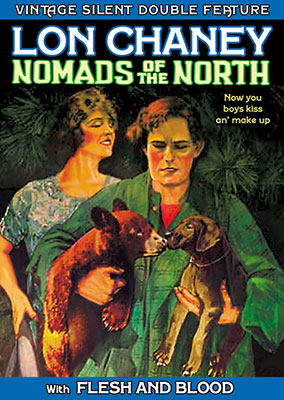 Alpha Video
2011 DVD edition

Nomads of the North (1920), black & white, ? minutes, not rated,
with Flesh and Blood (1922), color-toned black & white, ? minutes, not rated.

Alpha Home Entertainment, ALP 6691D, UPC 0-89218-66919-3.
One single-sided, single-layered, Region 0 NTSC DVD disc, 1.33:1 aspect ratio image in full-frame 4:3 (720 x 480 pixels) interlaced scan MPEG-2 format, ? Mbps average video bit rate, ? kbps audio bit rate, Dolby Digital 2.0 stereo sound, English language intertitles, no foreign language subtitles, chapter stops; standard DVD keepcase, $7.98.
Release date: 29 November 2011.
Country of origin: USA