Reviews of silent film releases on home video.
Copyright © 1999-2018 by Carl Bennett
and the Silent Era Company.
All Rights Reserved.

The
Narrow Trail
(1917)

This William S. Hart western features Hart as outlaw Ice Harding, who discovers a wild Pinto horse (Fritz) he must tame for himself. And while holding up a stagecoach, he sees Betty Werdin (Sylvia Breamer) and is struck by her unforgetable beauty. Pursued again by a vigilante posse, Harding's gang tries to convince him to get rid of his distinctive and easily identifiable pinto horse.

Traveling in cognito into Saddle City, Harding again sees Betty and they begin spending time together — Betty unaware that Harding (posing as a rancher) is actually the outlaw, he unaware that she is actually niece to a San Francisco criminal (Milton Ross) vacationing with her (his accomplice) in the remote mountains. They both respect each other's undetected façade of honesty, while each are remorseful that their criminal activities may doom their blossoming love.

With Betty's return to San Francisco, Harding resolves to follow her there. Finding shanghaier Moose Halloran (Robert Kortman) instead, Harding is coincidentally led to a back room in the dance hall owned by Betty's uncle. Not drunk enough to shanghai, Harding comes face-to-face with Betty, who is horrified to be seen for what she has been. Distraught, Harding leaves the dance hall and Betty behind.

Intending to leave her criminal past behind, Betty moves to Saddle City where she again sees Harding, who admits to her his own criminal past. They see their benevolent impulses are ironically weighted with the guilt of their pasts. Resolved to be good, and their hopes hung on the outcome of a $1,000 race prize, the wild pinto is now either their fresh start or Harding's downfall.

We love Hart's criminal persona in the beginning of this film — all cocky self-assurance. Sylvia Breamer turns in a sympathetic performance, while Fritz the horse outacts most of the supporting players.

Viewers can take note of the special effects glass shot of Harding crossing the tree bridging the ravine. While not especially convincing visually, it is worth examining as an example of early film production techniques in 1917. — Carl Bennett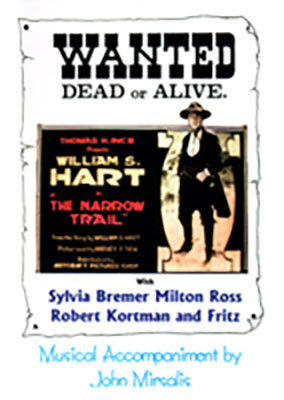 Encore Home Video
2003 DVD edition

The Narrow Trail (1917), black & white, 55 minutes, not rated.

Encore Home Video, F 413, no UPC number.
One single-sided, single-layered, Region 0 NTSC DVD-R disc, 1.33:1 aspect ratio image in full-frame 4:3 (720 x 480 pixels) interlaced scan MPEG-2 format, ? Mbps average video bit rate, ? kbps audio bit rate, Dolby Digital 2.0 mono sound, English language intertitles, no foreign language subtitles, chapter stops; standard DVD keepcase, $18.88.
Release date: 2003.
Country of origin: USA

Ratings (1-10): video: 7 / audio: 5 / additional content: 5 / overall: 6.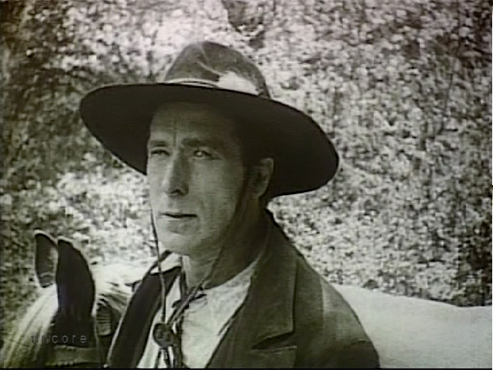 This DVD-R edition has been mastered from a 35mm fine-grain print struck from the 35mm preservation negative held by the Library of Congress. A few fleeting moments of beginning decomposition are seen in the source print itself, along with an expected amount of dust, speckling, scratches, chipping and other minor print damage. The full-frame video transfer runs a bit faster than natural speed, which makes for some brief shots that one instead wants to momentarily linger over. The older master slight loss of image detail due to analog video's lower picture resolution — more apparent on high-definition equipment than it would be on standard televisions. Just once, a mild analog video glitch is seen rolling through the picture.
The film is accompanied by a piano score performed by Jon Mirsalis, with muffled sound quality but still enjoyable.
The word "encore" is superimposed in small type in the lower left-hand corner of the picture throughout the film to discourage video pirates . . . and collectors.
This presentation includes William S. Hart's sound-film introduction to the 1939 rerelease of Tumbleweeds (1925), a turgid affair that records for posterity Hart's Victorian theatrical modulating vocal delivery, transferred from a 16mm reduction print. We cherish every melodramatic moment of it.
Although the older, analog video master could be updated to today's digital standards, it still renders a pleasant viewing experience (especially for a DVD-R release), and the disc is well worth a collector's consideration until a better edition is released.
This Region 0 NTSC DVD-R edition is available directly from ENCORE HOME VIDEO.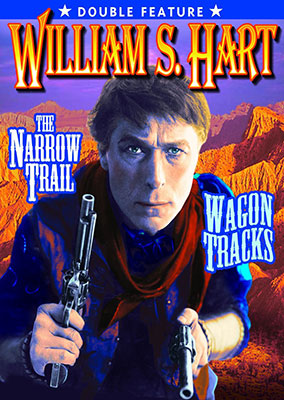 Alpha Video
2011 DVD edition

The Narrow Trail (1917), black & white, ? minutes, not rated,
with Wagon Tracks (1919), black & white, ? minutes, not rated.

Alpha Home Entertainment, ALP 6574D, UPC 0-89218-65749-7.
One single-sided, single-layered, Region 0 NTSC DVD-R disc, 1.33:1 aspect ratio image in full-frame 4:3 (720 x 480 pixels) interlaced scan MPEG-2 format, ? Mbps average video bit rate, ? kbps audio bit rate, Dolby Digital 2.0 mono sound, English language intertitles, no foreign language subtitles, chapter stops; standard DVD keepcase, $7.98.
Release date: 5 July 2011.
Country of origin: USA