Reviews of silent film releases on home video.
Copyright © 1999-2018 by Carl Bennett
and the Silent Era Company.
All Rights Reserved.
The Man from
Painted Post
(1917)
Douglas Fairbanks stars in this western vehicle, directed by Joseph Henabery, which features Eileen Percy, Frank Campeau, Frank Clark, Rhea Haines and Charles Stevens.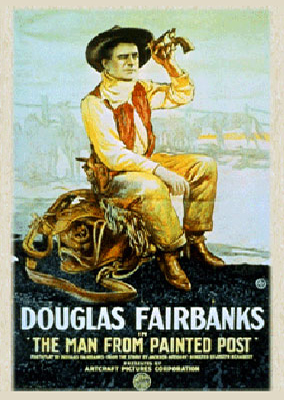 Grapevine Video
2007 DVD edition

The Man from Painted Post (1917), black & white, 58 minutes, not rated,
with Felix in Hollywood (1923), black & white, 9 minutes, not rated.

Grapevine Video, no catalog number, UPC 8-42614-10309-4.
One single-sided, single-layered, Region 0 NTSC DVD-R disc, 1.33:1 aspect ratio image in windowboxed 4:3 (720 x 480 pixels) interlaced scan MPEG-2 format, ? Mbps average video bit rate, ? kbps audio bit rate, PCM 2.0 mono sound, English language intertitles, no foreign language subtitles, chapter stops; standard DVD keepcase, $14.95.
Release date: November 2007.
Country of origin: USA