Reviews of silent film releases on home video.
Copyright © 1999-2018 by Carl Bennett
and the Silent Era Company.
All Rights Reserved.
Maciste in Hell
(1926)
Maciste in Hell (1926) features a character originally portrayed by actor Bartolomeo Pagano in the Italian historical epic Cabiria (1914). Here Pagano as Maciste is a virtuous man of the 19th century who is confronted by the Devil (appearing in his Snidley Whiplash persona) in an attempt to sway him to hellish actions. The Devil does not succeed and seeks other means to defeat Maciste. He abducts Rosabel's infant as Maciste attempt to convince it's rich father to make good on his paternity. Maciste rescues the child. Furious, Maciste confronts the Devil, is captured, and is sent to Hell. The hordes of Hell conspire to keep Maciste there with a single kiss from one of the female conspirators. Maciste makes the mistake (as men are wont to do) and he is transformed into a demon. This frees the minions of King Barbariccia to attack the stronghold of King Pluto for unspecified revenge. Maciste battles on the side of Pluto, with his strength increased by his demonness a hundred-fold. Maciste defeats the army single-handed. Pluto transforms Maciste back to his mortal form and set on his way back to Earth but Proserpine laid a trap and captured Maciste in an attempt to keep him in Hell for herself. Her kiss turns him back into a demon and he is her prisoner for years. The prayer of Rosabel's young child on Christmas Eve turns Maciste back to man and frees him from bondage forever.
The ridiculous portrayal of the Devil and his minions on Earth, as stereotypical moustached melodrama villains in black top hats and twirling black capes, seems out of place in this otherwise interesting examination of the virtuous Maciste in the netherregions. Many of the crowd scenes of the minions of Hell, and the special effects shots of flying demons and the gargantuan Lucifer, Nimrod and Minos make watching this film a treat. — Carl Bennett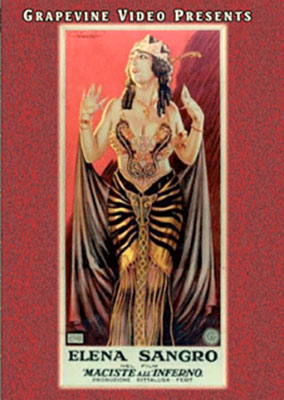 Grapevine Video
2002 DVD edition

Maciste in Hell (1926), black & white, 66 minutes, not rated,
with A Bird's a Bird (1915), black & white, 15 minutes, not rated.

Grapevine Video, no catalog number, unknown UPC number.
One single-sided, single-layered, Region 0 NTSC DVD-R disc, 1.33:1 aspect ratio image in full-frame 4:3 (720 x 480 pixels) interlaced scan MPEG-2 format, ? Mbps average video bit rate, 192 kbps audio bit rate, PCM 2.0 mono sound, English language intertitles, no foreign language subtitles, 8 chapter stops, standard DVD keepcase; $18.95 (reduced to $16.95).
Release date: 2002.
Country of origin: USA

Ratings (1-10): video: 6 / audio: 5 / additional content: 4 / overall: 5.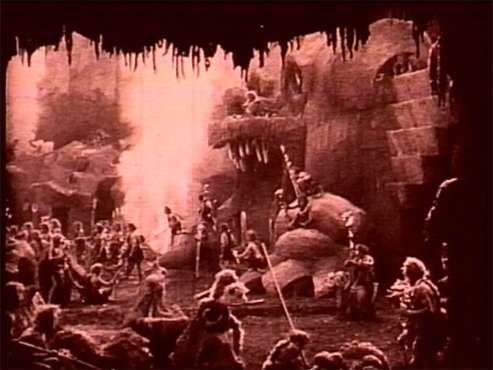 This DVD-R edition is noted as utilizing a 35mm print but, whether it is due to the source print or the transfer itself, some of the results look as though the transfer has actually been prepared from a 16mm reduction print. The sepia-toned preservation print is contrasty with some loss of highlight detail and some plugged-up shadows, and features the usual amount of speckling, dust, scratches, and other print damage. If the source print is actually 35mm then the preservation print may have been prepared in the 1960s or 1970s, when film duplication techniques were not as refined as they are today, from two prints — one being 35mm print and another possibly a 16mm reduction print. Some shots have acceptable greytone ranges while others are more contrasty, possibly indicating a second print from which the preservation print was prepared. The image cropping of either the transfer or the source print is a little excessive at the right and bottom edges of the frame.
The disc features a compiled theater pipe organ and orchestral music score that is reproduced from a variety of LP records. The score has been edited to the action and serves the purpose of accompanying the film's story, but several of the edits are abrupt and some of the music changes in different orchestrations, compositions and tone make such changes distracting.
Overall, we welcome the arrival of this intriguing film on home video and this 1998 Grapevine Video edition (reissued on VideoCD in 2001 and on DVD-R in 2002) remains watchable even though it is not of ideal quality. We have found that Grapevine Video features more seldom-seem titles from the silent era than any other public-domain home video producer. For this reason, we find that we can be forgiving of the substandard prints and cobbled-together scores on public-domain editions of silent era films until a better-quality home video edition comes along.
This Region 0 NTSC DVD-R edition is available directly from GRAPEVINE VIDEO.